Very Fine PA Sgraffito Redware Plate w/ Flowering Urn, possibly H. Roadebush, Montgomery Co, PA
Fine Sgraffito-Decorated Redware Plate with Flowering Urn Motif, possibly Henry Roudebush, Upper Hanover Township, Montgomery County, PA, circa 1815, the interior coated in yellow slip and sgraffito-decorated with a flowering plant emanating from a stylized urn with scalloped border. Flower includes a geometric blossom with crosshatched interior, its stem featuring oval and thin scrolled leaves and an unusual horizontal line motif at the stem's midsection. Green copper slip highlights are brushed throughout the floral design and additionally decorate the edge of the plate on two sides. This example survives in difficult-to-find condition and its surface retains a vibrant color and brilliant luster. Chipping to edge. Professional restoration to two spots along edge, one measuring 2" x 3/8" and the other measuring 3/4" x 1/4". A restored 1" x 1/4" flake to interior. Diameter 9 3/4".
---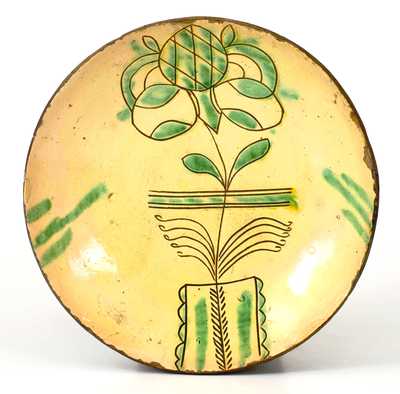 Click images to enlarge.
---