Extremely Rare and Important Thomas Downing (New York City) Stoneware Oyster Jar
July 20, 2019 Stoneware Auction
Lot #: 34
Price Realized: $4,425.00
($3,750 hammer, plus 18% buyer's premium)
PLEASE NOTE: The American ceramics market frequently changes, often dramatically. Additionally, small nuances of color, condition, shape, etc. can mean huge differences in price. Please do not hesitate to Contact Us for a Current, Accurate assessment of your items.
Auction Highlight: July 20, 2019 Auction | New York City Stoneware
Extremely Rare and Important Cobalt-Decorated Stoneware Oyster Jar, Stamped "T. DOWNING / PICKLED OYSTERS / NO*5 BROAD ST / NEW YORK", probably Dennis McLees or Thomas Boone and Sons, Brooklyn, NY, circa 1840, cylindrical jar with tapered shoulder and tall, narrow collar, decorated with a large brushed-cobalt highlight over the advertising, "T. DOWNING / PICKLED OYSTERS / NO*5 BROAD ST / NEW YORK". Thomas Downing (1791-1866) was a prominent African-American oysterman and owner of the most well-known oyster house in 19th century New York City. Downing had grown up as a free black in Accomack County, VA, where he learned the trade of oysterman. His parents were slaves to a prominent land owner in that county, Captain John Downing, who freed them upon his conversion to Methodism. As a young man, Downing traveled north to serve during the War of 1812, meeting his wife in Philadelphia, and ultimately arrived in New York in 1819. Upon his arrival in New York, he purchased a boat and began oystering, eventually establishing Downing's Oyster House in 1825, a famous restaurant on the corner of Wall and Broad Streets that catered to the local elite. In 1842, Downing was responsible for providing food, including 50,000 oysters, for a well-known ball celebrating the arrival of British author, Charles Dickens. His oysters were shipped as far as London and Paris, presumably in jars of this type, and he was even gifted a gold chronometer from Queen Victoria for oysters he sent to her. Downing was also heavily-involved in the Abolitionist Movement. He used the cellar of his oyster house as a hiding place for runaway slaves in the Underground Railroad, helped found the United Anti-Slavery Society of the City of New York in 1836, and fought for less-restrictive black voting laws in the State of New York. Upon his death in 1866, the New York Chamber of Commerce closed for the day of his funeral. His son, George Thomas Downing (1819-1903), followed in his father's footsteps as a successful restaurateur and civil rights activist. He served in the Underground Railroad and American Anti-Slavery Society, and fought for equal education for blacks. He was an associate of Frederick Douglass, with whom he helped establish the American League of Colored Laborers in 1850. During the Civil War he was asked to support the enlistment of African-Americans in the Union army, receiving a written promise from the Governor of Massachusetts that they would be treated the same as Caucasian troops. His involvement with African-American civil rights causes continued well after the Civil War. Upon his death in 1903, George T. Downing was described in the Boston Globe as "the foremost colored man in the country." A wonderful piece of American ceramic history. A 1" x 7/8" rim chip. Two smaller adjacent rim chips, one of which is glazed-over. A minor, glazed-over rim nick. Small base chips. H 6 1/4".
---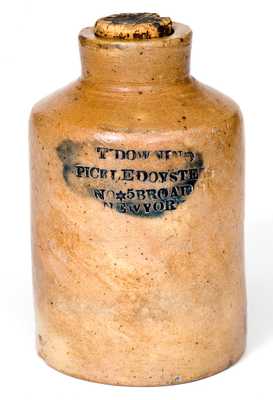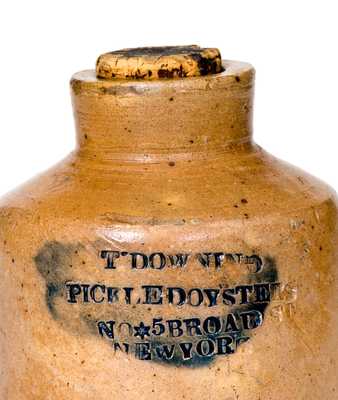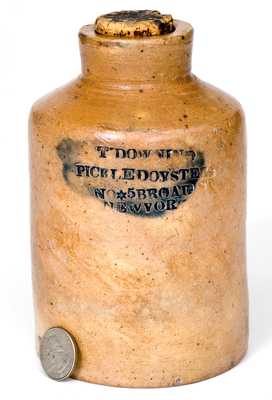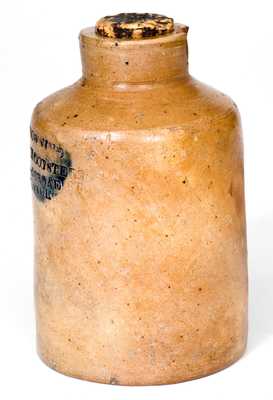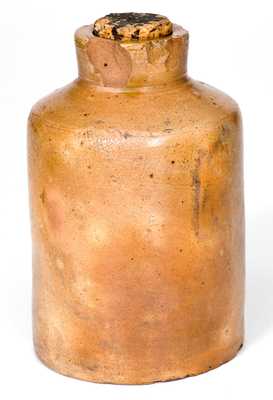 Click images to enlarge.
---
Bidding is now closed.
(Our
next auction
takes place March 21, 2020.)
---