Exceptional and Very Rare Patriotic Civil War Era Water Cooler, Taunton, MA origin
July 20, 2019 Stoneware Auction
Lot #: 33
Price Realized: $8,850.00
($7,500 hammer, plus 18% buyer's premium)
PLEASE NOTE: The American ceramics market frequently changes, often dramatically. Additionally, small nuances of color, condition, shape, etc. can mean huge differences in price. Please do not hesitate to Contact Us for a Current, Accurate assessment of your items.
Auction Highlight: July 20, 2019 Auction | New England Stoneware
Five-Gallon Stoneware Water Cooler with Elaborate Incised Decoration of a Bird-on-Stump with American Flag, Inscribed "Shoot the first man who pulls down this flag/ Gen Dix", Stamped "F.T. WRIGHT & SON / TAUNTON, MA", 1861, semi-ovoid cooler with circular bunghole, the surface profusely-decorated with incised and cobalt-highlighted banding. The front features an elaborate incised and cobalt-accented design of a bird-on-stump with large American flag, flanked by grasses, a willow tree, and a tulip. A large, forked banner emanates from the bird's mouth, reading, "Shoot the first man/ who pulls down this / flag". The name "Gen Dix" appears below. Impressed below rim with the cobalt-highlighted maker's mark of Taunton, Massachusetts, potter, Franklin T. Wright, and his son. This cooler bears the quotation of Union Civil War General and current Treasury Secretary, John A. Dix (1798-1879), taken from a January 29, 1861 telegraph he sent to the lieutenant of a Union ship, McClelland, that was under threat of seizure by secessionists in New Orleans, Louisiana. The telegraph was intercepted by an operator in Montgomery, Alabama, who, instead of forwarding the message to the ship's lieutenant, sent it to secessionist leaders in New Orleans. The telegraph was leaked to the press and made front page headlines in both the North and South, inciting a variety of responses. Despite the threat, the McClelland was captured. The fiery quotation would become Dix's legacy, used as a slogan on banners, becoming the inspiration for poems, and even the subject of a song titled, "Shoot Him On the Spot". By Spring of 1861, President Lincoln had appointed Dix to serve as one of the Union's leading generals, sending him to Baltimore to implement strict anti-secessionist policies. Later that year, the McClelland was retaken by the Union, and Dix was gifted both the Union flag that was taken down from the ship and the Confederate flag that it had been replaced with. The slogan would be associated with Dix for the rest of his life. When he ran for Governor of New York in 1872 (later winning handily), newspaper headlines read, " 'OLD SHOOT HIM ON THE SPOT' NOMINATED FOR GOVERNOR' ". [The above information regarding John A. Dix's legacy provided by Adam Goodheart, author of "1861: The Civil War Awakening" and Hodson Trust-Griswold Director of Washington College's C.V. Starr Center for the Study of the American Experience.] Despite the Civil War's immeasurable impact on America during the early 1860s, very few examples of American stoneware are known with such a vivid reference to this period in our history. Among the most significant discoveries in early Massachusetts pottery in recent decades. Provenance: A recently-discovered example, found in a New England home. Chipping to interior of rim. Two short, in-the-firing surface lines from bunghole, not visible on interior. Two very minor chips to underside at edge. H 14 1/2".
---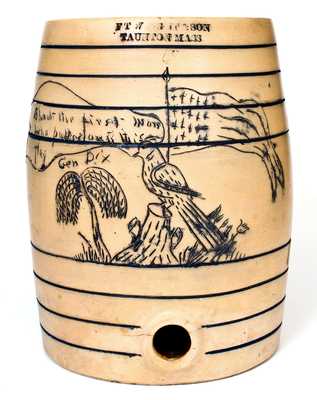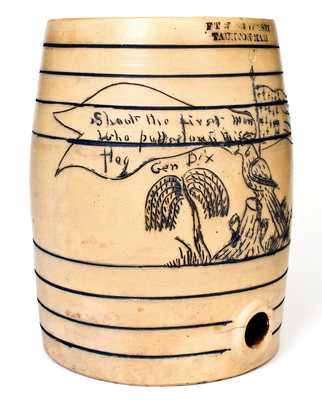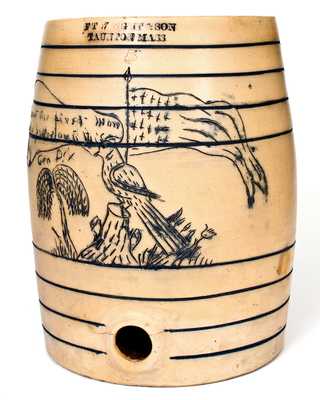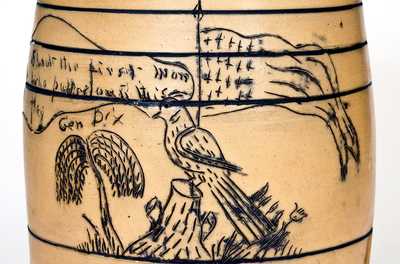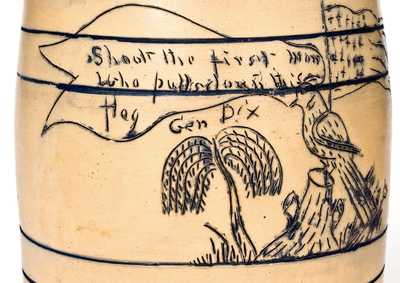 Click images to enlarge.
---
Bidding is now closed.
(Our
next auction
takes place March 21, 2020.)
---