---
Exceedingly Rare and Important Four-Sided Stoneware Flask with Profuse Incised and Impressed Decoration, attributed to the Crolius Family, Manhattan, NY, second or third quarter 18th century, wheel-thrown form with four paneled sides, canted corners, and tapered spout molding, decorated on each side with a different incised-and-cobalt-highlighted floral motif. One side is decorated with an incised floral motif with pointed blossom petals, each separated by an impressed rectangle with raised V-shaped design on the interior, the center of the bud accented with an impressed circle, the area surrounding the incising filled with cobalt slip. A second panel features an incised floral design with rounded petals and different impressed rectangular designs between the petals, as well as cobalt highlights within the incising. A third side features an incised floral design with rounded petals and no impressed rectangles between the petals, and the area surrounding the incising highlighted in cobalt slip. The fourth side features an incised floral design with rounded petals, impressed rectangles with raised V-shaped designs between each petal, and impressed circular accents to petals, all highlighted in cobalt slip. The underside of the flask was fashioned with a slightly-recessed square in an attempt to create a more finished or refined appearance, perhaps mimicking fine glass or china of the period. The canted corners of the flask feature two columns of rectangular designs, heavily-impressed in a diagonal, opposing fashion. Each rectangular impression, measuring approximately 5/8", is composed of a crossed square followed by four bisected squares. This same impressed decoration is repeated in a diagonal fashion on the spout of the flask. A similar or identical impressed design is vigorously impressed around the vessel's shoulder, below a series of impressed circles. Of interesting note is the fact that this combined employment of impressed circles above a stamp-decorated band can also be observed on the iconic heart-shaped inkstand, inscribed "New York July 12th 1773 / William Crolius / Tyler", in the collection of the Metropolitan Museum of Art in Manhattan, NY. The flask's mixed use of incised daisies and stamping further connect it to the illustrious Crolius family of potters, among the earliest cobalt-decorated stoneware producers in America. Few examples of American stoneware during the colonial period have survived. This object is stylistically linked to the Westerwald tradition in its application of cobalt slip to the negative space around the incised decoration (as opposed to within it) as seen on two sides, as well as in its extravagant canvasing of the surface with impressed and incised treatments. Being produced by one of the founding families of the American stoneware industry and serving as a "missing link" between German and American potting traditions, this flask is easily regarded as one of the most important examples of historic American stoneware that we have ever offered. As is not always the case, this object's historic value is arguably equaled by its decorative value, in its rare form, proficient use of cobalt slip, and lavish, four-sided decoration. Literature: For related treatments and decorative elements found on Crolius and Remmey family sherds, dating circa 1720-1765, see Meta F. Janowitz, New York City Stonewares from the African Burial Ground, Ceramics in America 2008, figs. 28, 33, 36, 37, 40, and 41. Excellent condition considering age and origin. Rim chips. Three small base chips. A 1 5/8" Y-shaped hairline to exterior base, which extends approximately 3/4" onto underside. An in-the-firing 7/8" clay adhesion to same side. H 7".

Important Note: New information shows that this vessel is actually a tea canister, not a standard flask. An incredibly rare form in American stoneware (indeed, the first we have handled), you can see the extreme similarity to a recently-surfaced redware example in our video below.
---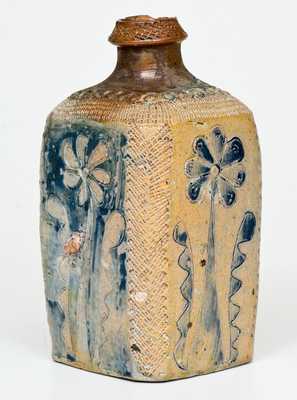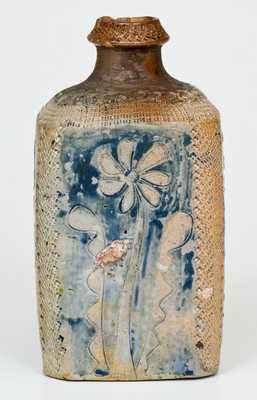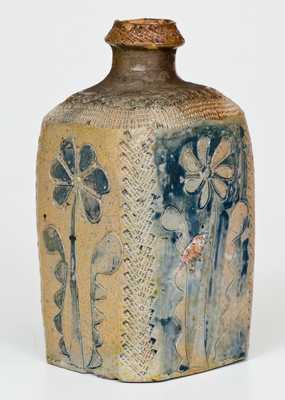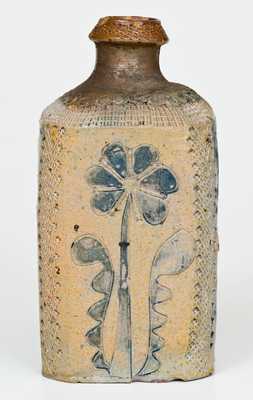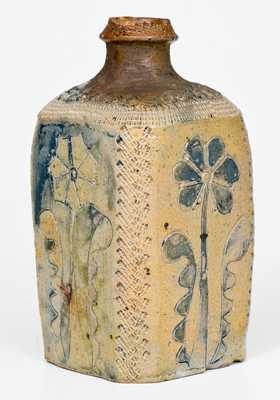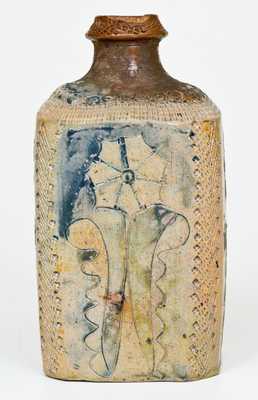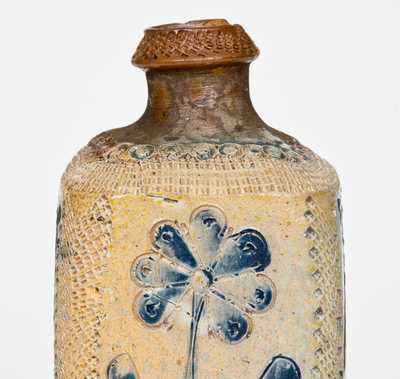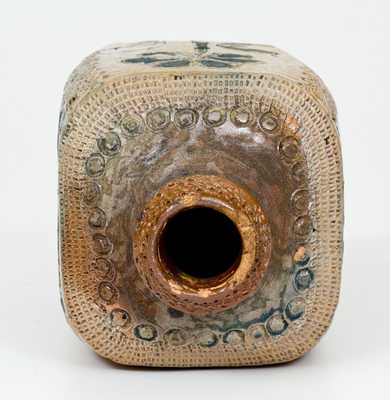 Click images to enlarge.