Bidding is now closed.
(Our
next auction
takes place March 21, 2020.)
---
Exceedingly Rare and Important Redware Hunt Scene Pitcher with Three-Color Glaze, Stamped "JOHN BELL / WAYNESBORO'", PA origin, circa 1850-1880, molded pitcher with relief motifs of hounds attacking a stag and boar, flanking a central tree. Shoulder with relief grape vine design. Handle in the form of a twig. Surface decorated with an outstanding three-color glaze featuring blue at the shoulder, green at the midsection, and mottled brown and cream at the base. This glaze was created by dipping the exterior of the pitcher in a whitish slip, then sponging horizontal bands of cobalt, copper, and manganese slip, then dipping the entire pitcher in a clear lead glaze. The handle is additionally decorated with lead and sponged cobalt over cream-colored slip. The interior is clear-glazed over orange clay. The maker's mark, "JOHN BELL / WAYNESBORO'", is impressed in an unusual vertical manner along the trunk of the relief tree motif on the vessel's front. This pitcher can be described as one of Bell's most ambitious attempts at producing art pottery. It is an innovative work with a surprisingly modern appearance, given the fact that it was made by a country potter, sometime during the third quarter of the 19th century. Possibly Bell's finest example of this popular form, which was copied from an E. & W. Bennett piece from Baltimore, MD and produced by both the Waynesboro, PA and Strasburg, VA members of the family. Provenance: A fresh-to-the-market example, purchased by the consignor decades ago. Very good condition. Wear to rim, including a 5/8" flake to side of spout. Other light surface wear. Wear to bottom edge of pitcher, visible when pitcher is turned over. Some glaze spalling and/or wear to interior. H 7 3/8".
---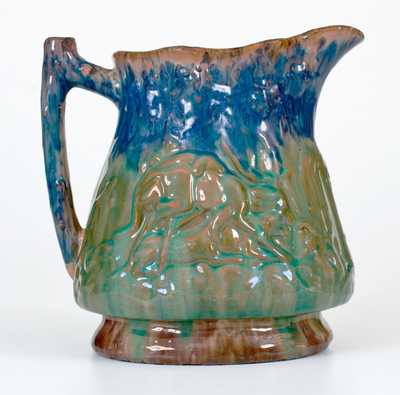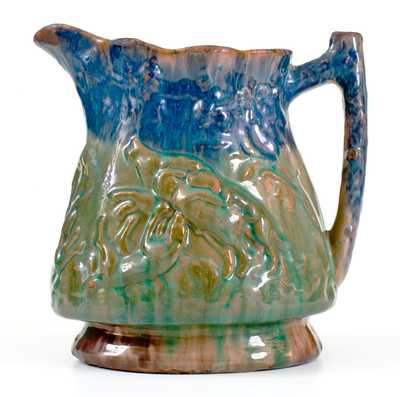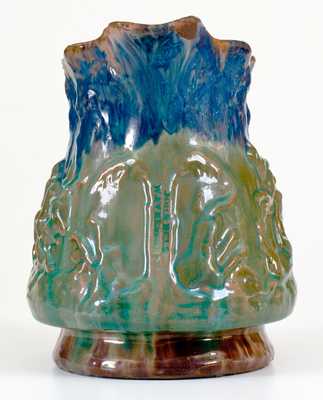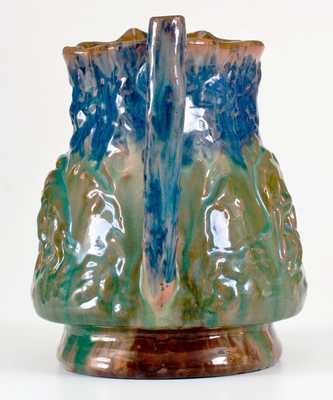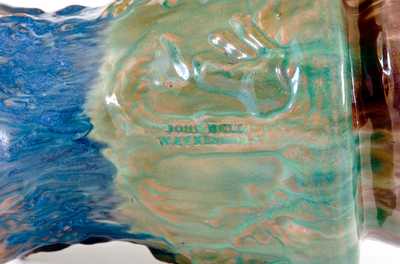 Click images to enlarge.