Exceptional Edgefield, SC Stoneware Jar w/ Two-Color Decoration, probably Phoenix Factory
March 24, 2018 Stoneware Auction
Lot #: 8
Price Realized: $17,700.00
($15,000 hammer, plus 18% buyer's premium)
PLEASE NOTE: This result is 2 years old, and the American ceramics market frequently changes. Additionally, small nuances of color, condition, shape, etc. can mean huge differences in price. Please Contact Us for a Current, Accurate assessment of your items.
Auction Highlight: March 24, 2018 Auction | Southern Pottery | Antique Textiles
Monumental Seven-Gallon Alkaline-Glazed Stoneware Jar with Elaborate Two-Color Slip Decoration, probably Thomas Chandler, Phoenix Factory, Edgefield District, SC, circa 1840, large-sized jar of highly-ovoid form with tooled shoulder, semi-rounded rim, and applied lug handles, decorated completely around the shoulder with a large drape-and-daisy motif in kaolin and iron-oxide slip over a celadon-colored, alkaline-glazed ground. The wide brushwork of the iron-slip swags and daisies, overlaid with looping and scalloped trails of kaolin slip, create a visually-stunning work of ceramic folk art. Appealing runs of thick, gray-green alkaline glaze are visible on one side of the jar, cascading from the shoulder area, and, in another area, flowing upward from the base. This jar was almost certainly made by Thomas Chandler, head potter at the Phoenix Factory, owned by Collin Rhodes and Robert Mathis and located along Shaw's Creek in South Carolina's Edgefield District. Its decoration is closely related to those found on Thomas Morgan stoneware products of 1820s Baltimore, MD, the city where Thomas Chandler apprenticed as a potter. In addition, the jar's elegant, thin-walled form with narrow base is consistent with Chandler's fine craftsmanship, which would continue into the early 1850s, when he operated his own pottery at Kirksey's Crossroads. Fingerprints at the jar's base, created when the vessel was dipped in glaze prior to firing, may belong to Chandler himself. An important Southern stoneware product in its decorative appeal, size, condition, and maker. Several shallow chips to one handle. A 3 1/4" area of shallow chipping to opposite handle. Some wear to slip. H 17".
---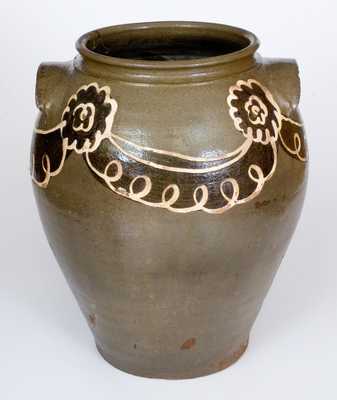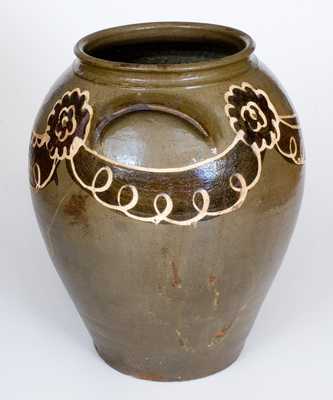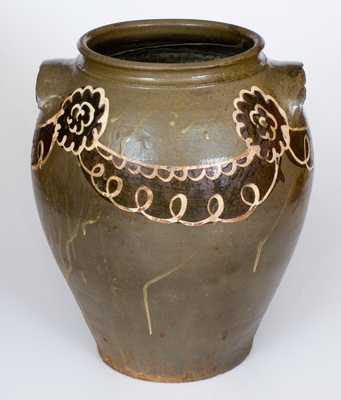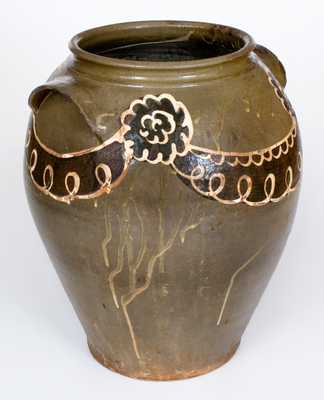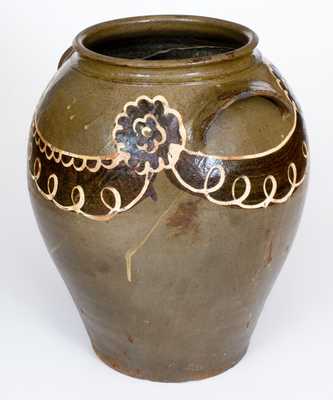 Click images to enlarge.
---
Bidding is now closed.
(Our
next auction
takes place March 21, 2020.)
---