Exceptional Edward Singer / Haycock Township, PA Redware "Match Box," "1895 / E. S."
March 24, 2018 Stoneware Auction
Lot #: 328
Price Realized: $10,030.00
($8,500 hammer, plus 18% buyer's premium)
PLEASE NOTE: This result is 2 years old, and the American ceramics market frequently changes. Additionally, small nuances of color, condition, shape, etc. can mean huge differences in price. Please Contact Us for a Current, Accurate assessment of your items.
Auction Highlight: March 24, 2018 Auction | Redware
Outstanding Redware Match Box with Exuberant Three-Color Slip Decoration, Inscribed "Match Box", Signed and Dated Several Times "E.S. / 1895", Edward Singer, Haycock Township, Bucks County, PA, 1895, slab-constructed box with original fitting lid, the surface profusely-decorated with trails of yellow slip, overlaid with spots and stripes of copper and manganese slip, under a clear lead glaze. One side of box inscribed with the large manganese-slip initials, "E.S.", the reverse inscribed in manganese and copper slip, "MATCH / BOX / 1895". A third side of the box bears the copper-slip date and initials, "E.S. / 1895". The box's interior, which is also glazed, includes spattered copper and manganese slip throughout, as well as trails of yellow slip on the interior base. The box's lid includes a raised clay panel on the underside, which allows it to fit snugly onto the top of the box. The lid is inscribed on the top in copper slip with the initials, "E.S", above a wavy vine design; the underside of the lid features a bold yellow-slip sunburst motif. Exceptional in form and decoration, this redware match box was made by Edward Singer (1850-1909), son of German immigrant, Simon Singer, patriarch of the family pottery in Bucks County's Haycock Township. This family has gained notoriety in Pennsylvania ceramics and folk art circles for producing a number of elaborately-inscribed, slip-decorated plates during the final decades of the 19th century. This exceedingly rare box form, remarkably retaining its original lid, is virtually unheard of in American 19th century redware. An important, recently-surfaced work of Bucks County, Pennsylvania pottery. Provenance: A fresh-to-the-market object, discovered in the Singer Pottery warehouse by a descendant in the 1950s. Box in excellent condition with a small chip to one bottom corner, visible when the box is turned over. Lid with losses to two corners and some very minor wear to underside. L 4 1/2" ; W 3" ; H (including lid) 3 3/8".
---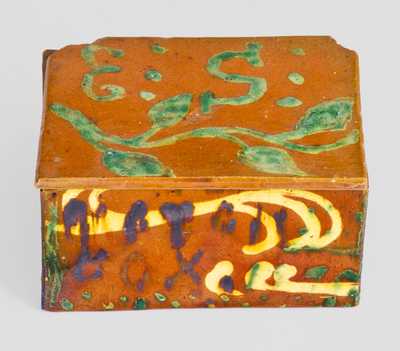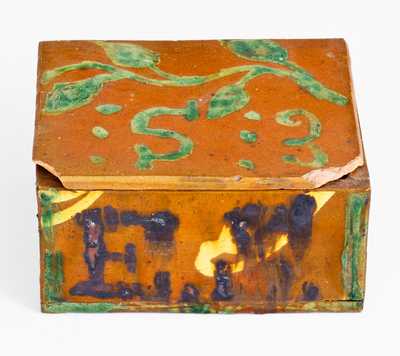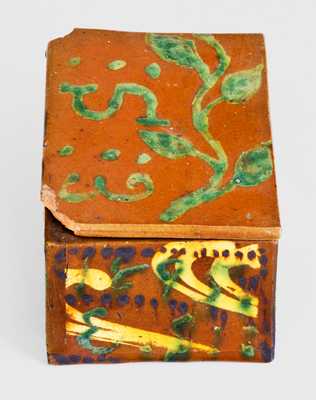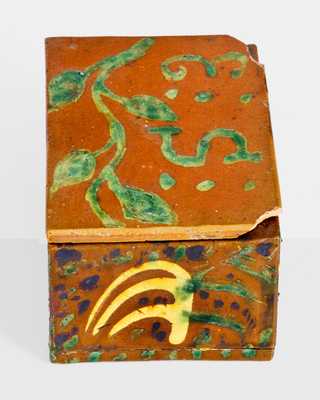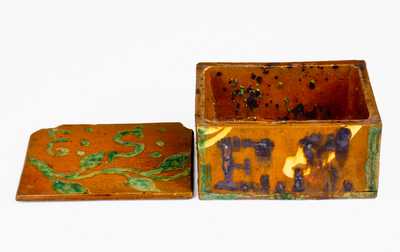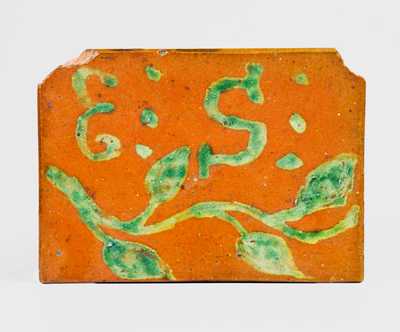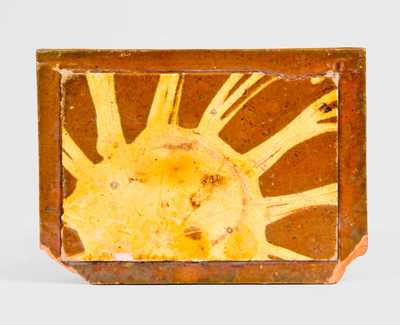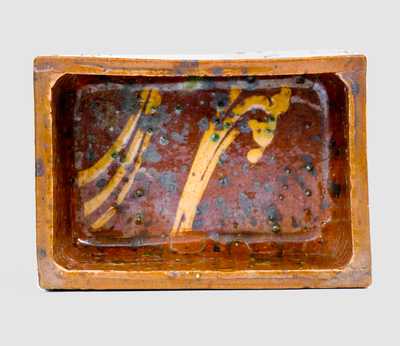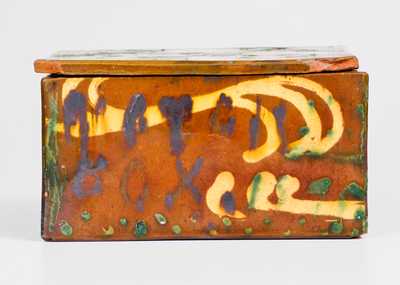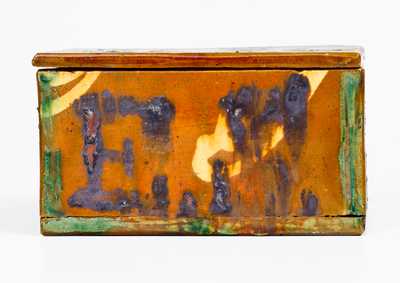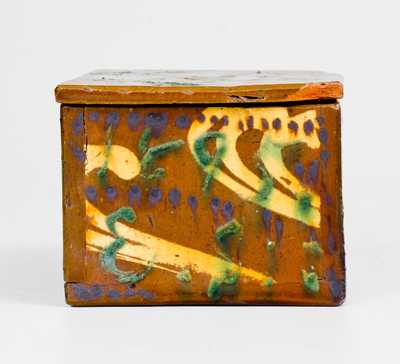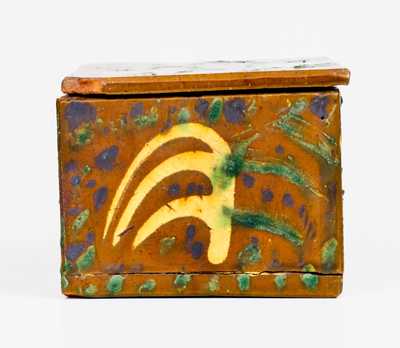 Click images to enlarge.
---
Bidding is now closed.
(Our
next auction
takes place March 21, 2020.)
---