Important Andrew Uhler 1803 Sgraffito Redware Plate w/ Exuberant Decoration and Rare Impressed Maker's Mark
July 18, 2015 Stoneware Auction
Lot #: 25
Price Realized: $46,000.00
($40,000 hammer, plus 15% buyer's premium)
PLEASE NOTE: This result is 5 years old, and the American ceramics market frequently changes. Additionally, small nuances of color, condition, shape, etc. can mean huge differences in price. Please Contact Us for a Current, Accurate assessment of your items.
Auction Highlight: Current Auction | Greatest Hits | July 18, 2015 Auction | Redware
Exuberant Sgraffito-Decorated Redware Plate with Elaborate Flowering Urn Decoration, Dated 1803, Stamped on Reverse "A.U", Andrew Uhler, Southeastern Pennsylvania origin, 1803, with coggled edge, the interior coated in a yellow slip and sgraffito-decorated with an open-handled urn holding a flowering plant with elaborate central tulip, flanked by star-shaped blossoms. Brushed copper slip highlights throughout and clear lead glaze to surface. This lavishly-decorated example includes exceptional detail throughout the design, including pin-pricked accents surrounding the lower petals of the central tulip, stripes to the second tier of tulip petals, dashes to the star-shaped blossoms, and cross-hatching to the interior of the urn. Additional scalloped sgraffito embellishments decorate the border of the plate. Base with inscribed "1803" date and unidentified Pennsylvania-German inscription, possibly ending in "Juli", indicating the month of manufacture. Reverse bears the impressed mark, "A.U", within a saw-toothed border, used by potter, Andrew Uhler, active in Montgomery, Pennsylvania, during the early decades of the 19th century. At least four other Uhler plates belong in three prominent museum collections. An example at Winterthur is dated 1805, a second at The Metropolitan Museum of Art bears the date 1810, and two at the Philadelphia Museum of Art are also dated 1810. A fifth plate, bearing a strong likeness to the plate to be auctioned, was made in 1812 by Rudolph Gerber, an associate of Uhler. The plate offered in our July 18 auction is very significant, in that it bears the earliest date we have seen on an Andrew Uhler plate, 1803, and is also the most profusely-decorated example of his work that we are aware of. It appears that, by 1810, his designs decreased in ornamentation. In addition, while other Uhler plates are known with incised signatures or initials on the front, this example is the only we are aware of bearing the potter's impressed maker's stamp on the reverse. It is likely that Uhler employed a stamp on his products early in his career, and, by 1805, had changed his method of signature solely to an incised inscription. While a large number of Pennsylvania sgraffito plates have survived in poor to moderate condition with significant damage, this example remains in a strong state of preservation with a brilliant luster and punchy color. This fact is truly remarkable, considering the plate's age of 212 years. Provenance: A fresh-to-the-market example, discovered by the consignor in Lancaster County, PA approximately twenty-five years ago. Literature: For a Uhler plate in the collection of the Philadelphia Museum of Art, see Garvin, The Pennsylvania-German Collection, p. 205. Two rim chips, measuring 1 1/2" and 1 1/4". The 1 1/2" long chip is primarily visible when the plate is turned over, and includes a short, faint hairline. Small surface flakes to interior. Diameter 10 1/4".
---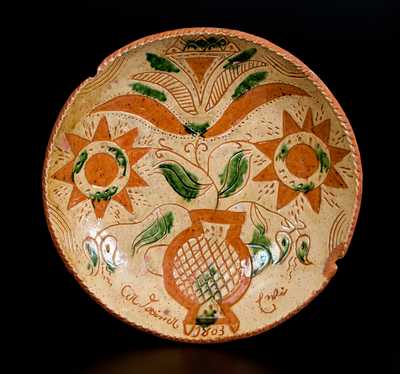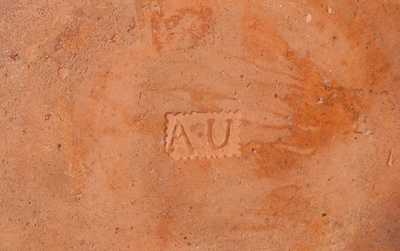 Click images to enlarge.
---
Bidding is now closed.
(Our
next auction
takes place March 21, 2020.)
---