Exceptional Morgantown, WV Stoneware Jar w/ Civil War Soldier and Woman Motifs
October 28, 2017 Stoneware Auction
Lot #: 283
Price Realized: DNMR
Exceptional and Important One-Gallon Stoneware Jar with Cobalt Civil War Soldier and Woman Motifs, attributed to the Thompson Pottery, Morgantown, WV, circa 1861-1865, ovoid jar with heavily-tooled shoulder and semi-squared rim, decorated with a brushed design of a man with scroll-brimmed hat, holding a long lance in a defensive posture, above a smaller design of a woman, all atop a stylized ground. The male figure depicted likely represents a Civil War "lancer", a member of several regiments and companies in both the Union and the Confederacy, which used lances or pikes to defeat the enemy. Such weapons were more prevalent in the Confederacy, where firearms were less plentiful, and simpler iron-and-wood weaponry could be more easily made. The Governor of Georgia, Joseph Brown, ordered ten-thousand pikes in 1862, a gesture that led to his namesake being applied to the weapons as "Joe Brown" pikes. He described their proficiency as follows: "the short range pike and terrible knife, when brought within their proper range, (as they can be almost in a moment) and wielded by a stalwart patriot's arm, never fail to fire and never waste a single load." Despite its more plentiful use in the South, a Union regiment, the Sixth Pennsylvania Cavalry, which became known as "Rush's Lancers", were the most famous to carry this weapon. A photograph of this regiment was taken by Mathew Brady in 1863. This jar is one of a small number of Morgantown school stoneware pieces with subject matter believed to be related to the Civil War. Most outstanding among them is a John Greeland jar from Connellsville, PA, which probably commemorates the end of the Civil War, featuring marching soldiers and a band with leader, currently on display at the William C. and Susan S. Mariner Southern Ceramics Gallery at the Museum of Early Southern Decorative Arts in Winston-Salem, North Carolina. A small number of other examples depict a man or woman carrying a flag, one of which is illustrated in Duez, Horvath, and Hornsby-Heindl, "The Stoneware Years of the Thompson Potters of Morgantown, West Virginia, 1854-1890", Ceramics in America 2011, fig. 47. As two of John W. Thompson's sons, James and Frank, served in the Civil War, the subject was clearly in the minds of the family, even, evidently, as they produced pottery. This jar's apparent Civil-War-themed image is made even more intriguing by its inclusion of a smaller female figure to the soldier's right. This decoration, while possibly representing a child, may also depict the soldier's wife or mother looking on from the distance at her son headed off to war. As the soldier stands with his angled pike over the smaller figure, the viewer is given the sense that she is being protected. The jar's outstanding figural design is complemented by exceptionally bold cobalt slip, not often found on Morgantown people crocks, as well as an appealing small size to the vessel. In addition, its stylish, ovoid form is exceptionally rare, as Morgantown people crocks were typically made in a cylindrical shape. This jar is the only example potted in this manner that we have seen. Provenance: A fresh-to-the-market example, acquired by the consignor approximately twenty years ago. This jar survives in remarkable, essentially as-made condition, with no visible flaws. H 10".
---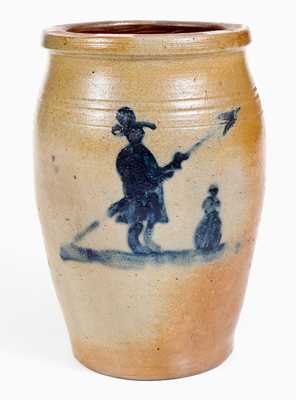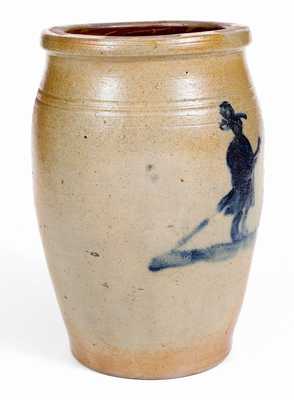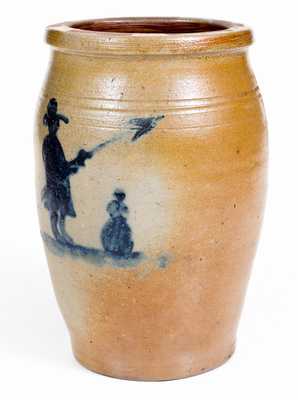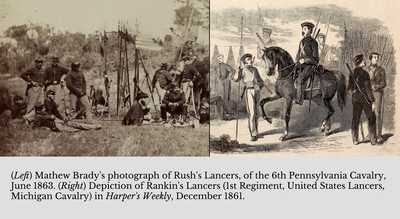 Click images to enlarge.
---
Bidding is now closed.
(Our
next auction
takes place October 26, 2019.)
---