Exceptional Virginia Stoneware Incised Bird Pitcher, probably John Schermerhorn, Richmond, c1815
July 22, 2017 Stoneware Auction
Lot #: 165
Price Realized: $35,400.00
($30,000 hammer, plus 18% buyer's premium)
PLEASE NOTE: This result is 3 years old, and the American ceramics market frequently changes. Additionally, small nuances of color, condition, shape, etc. can mean huge differences in price. Please Contact Us for a Current, Accurate assessment of your items.
Auction Highlight: Greatest Hits | July 22, 2017 Auction | Southern Pottery | Incised Stoneware
Exceptional and Important Small-Sized Stoneware Pitcher with Incised Bird Decoration, Inscribed "J.F." and "J.S.", Virginia origin, circa 1815-1830, probably John P. Schermerhorn at the Benjamin DuVal Stoneware Manufactory, Richmond, VA, circa 1815, ovoid pitcher with slightly-footed base, narrow collar and thin strap handle with central groove, the front decorated with a large incised and cobalt-highlighted design of a bird perched in a flowering branch. Decoration includes veining to the leaves, accents to the circular clusters of petals, and feather detail to the bird. Additionally incised along the shoulder with a drape-and-tassel motif in the Manhattan style, most commonly seen in the impressed decorations of Corlears Hook potters, Thomas Commeraw and David Morgan. Handle terminals brushed with cobalt slip, including scalloped incising accenting the lower terminal. Incised with the cobalt-highlighted initials, "J:F", the presumed owner of the pitcher, below the handle. Underside incised with the initials, "J**S", believed to be the maker of the pitcher. The pitcher's bird design was inspired by motifs created by the Manhattan-trained potters, Henry Remmey and his son, Henry Harrison Remmey, while active in Baltimore, MD, circa 1812-1829. Shortly after their arrival in Baltimore, the Remmeys set the standard for Southern stoneware production, producing beautifully-incised work of a quality even finer than that produced in Manhattan. A number of Southern potteries emulated Baltimore ware to various degrees, this pitcher being one of the most extravagantly-decorated we have seen. It was made by one of a relatively small group of Virginia potters familiar with incised decoration, presumably a craftsman trained in the Northeastern U.S. or Baltimore. The most likely identity of the pitcher's maker is John P. Schermerhorn, while working at the pottery of merchant, Benjamin DuVal, in Richmond, VA, circa 1815. Schermerhorn's early potting career in New Jersey and New York State, as well as a small number of incised Richmond pieces attributed to his hand, indicate his familiarity with incised decoration. Moreover, sherds excavated at the Benjamin DuVal site reveal the work of a proficient artist of incised foliate designs. While the simple form of the pitcher and its color, dark-gray with brown mottling throughout, are consistent with James River Valley stoneware, the initials, "J**S", on the underside, further corroborate a Schermerhorn attribution. Interestingly, the incised drape-and-tassel design is more likely based on Manhattan stoneware rather than Remmey pieces from Baltimore; despite the Remmeys' Manhattan training, none of their Baltimore work displays this Federal-style motif. However, brushed variants of this design are found on early James River stoneware, made circa 1820. Extending further west, pieces produced by the Rockbridge County potter, John Morgan, who was trained in Manhattan, feature brushed and stenciled forms of this popular Northern-inspired design, as well as some finely-executed incised bird decorations. Incised Southern stoneware of this quality is exceedingly rare. This pitcher serves as an important link between the Virginia stoneware craft and its roots in potteries further north. One of the most important examples of Virginia stoneware to come to market in recent years. Provenance: Property of New York State collector. Ex-Stephen Score. Excellent, essentially as-made condition with a 3/4" in-the-firing line on interior of spout, not visible on exterior. H 8".
---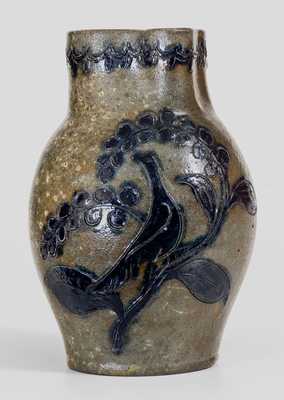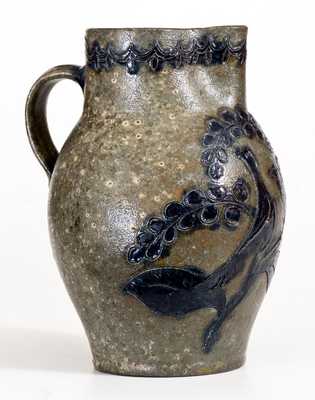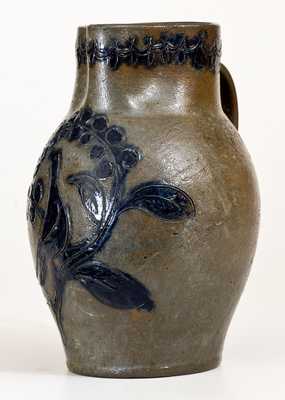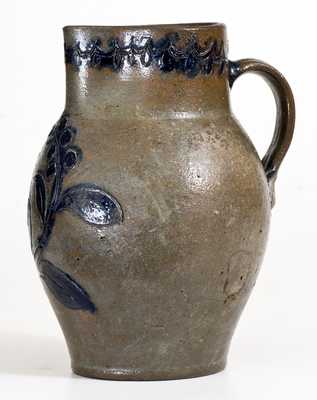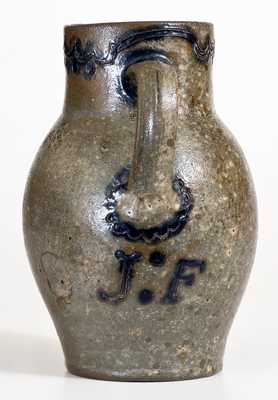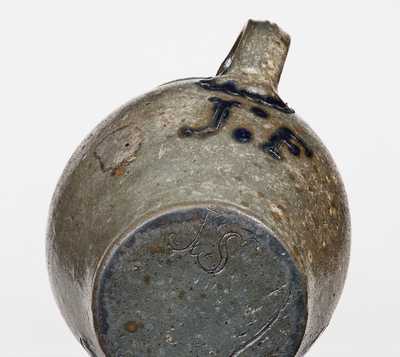 Click images to enlarge.
---
Bidding is now closed.
(Our
next auction
takes place March 21, 2020.)
---