Exceptional James River, VA Stoneware Milkpan w/ Fox and Chicken Scene, probably Schermerhorn
March 24, 2018 Stoneware Auction
Lot #: 77
Price Realized: $7,080.00
($6,000 hammer, plus 18% buyer's premium)
PLEASE NOTE: This result is 2 years old, and the American ceramics market frequently changes. Additionally, small nuances of color, condition, shape, etc. can mean huge differences in price. Please Contact Us for a Current, Accurate assessment of your items.
Auction Highlight: March 24, 2018 Auction | Virginia Stoneware
Important and Probably Unique One-Gallon Stoneware Milkpan with Cobalt Fox and Chicken Decoration, James River Valley of Virginia origin, probably John Poole Schermerhorn, Richmond, VA, circa 1820, tapered pan with tooled midsection, semi-rounded rim molding, and applied tab handles, the front decorated with a brushed folk art design of a fox with head-on stare, behind a chicken feeding at a flower. Brushwork extending from the fox's muzzle possibly represent a dead chicken or the tail feathers of the chicken it follows. Brushed cobalt additionally appears as highlights spanning the tops of the handles. The color, form, and handle construction of this milkpan indicate it was made in the James River Valley of Virginia, circa 1820. More specifically, the naive brushwork of the "fox chasing chicken" motif (which involves heavily-massed cobalt), the milkpan's color, and the addition of brushwork on the tops of the handles, all suggest it was most likely made and decorated in Richmond by the New York / New Jersey trained potter, John Poole Schermerhorn (1788-1850). A small number of other pieces with brushed figural designs attributed to Schermerhorn are documented, allowing for a comparison in style. Among these are a jug with rabbit design, a jug with owl design, a small number of pieces with other types of birds, and a few with human forms. All exhibit wide cobalt brush strokes with heavy cobalt highlights to the interior of the figures. Perhaps most similar to this milkpan is a jar with incised and cobalt-highlighted decoration of a bird feeding at a flower, illustrated in fig. 14 of Kurt C. Russ and William Sterling Schermerhorn's article, "Rockett's Red Glare: John P. Schermerhorn and the Early Richmond-Area Stoneware Industry", Ceramics in America 2005. Both the bird's torso and the flower on this jar are nearly identical to those depicted on this milkpan. The pan's slightly-curved, tab handles date the piece relatively early in Schermerhorn's Richmond tenure. It may have been made during the 1810s, while he was still working at Benjamin duVal's Richmond Stoneware Manufactory, or in the early 1820s, shortly after he established his own factory at Rocketts, possibly in conjunction with a Northern-trained associate, Samuel Wilson. A growing body of figural-decorated stoneware pieces, including the recent surfacing of a brushed self-portrait jar and an incised bird pitcher, indicate a highly-artistic side to Schermerhorn, far beyond his potting abilities and floral motifs. This previously-undocumented milkpan may add to this important, early Virginia grouping. Provenance: From a Virginia estate. Several rim and spout chips. Shallow chips to one handle. Two minor chips to bottom edge of milkpan. A smooth, 1" in-the-making dent to bottom edge of milkpan. H 5 5/8" ; Diameter (across top) 10".
---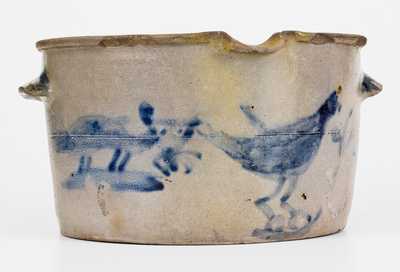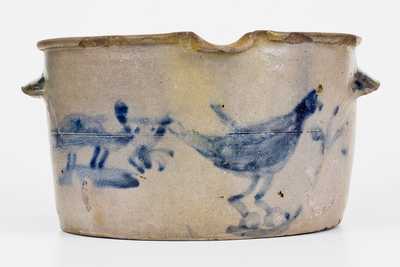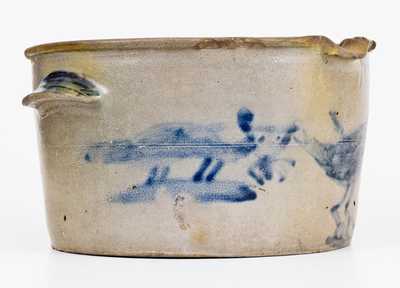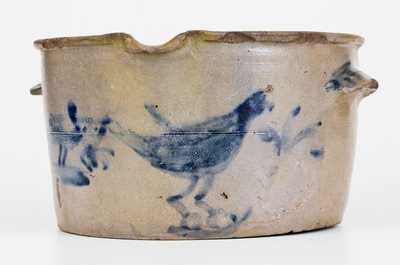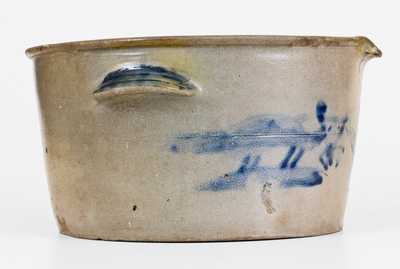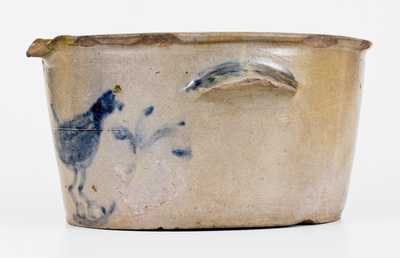 Click images to enlarge.
---
Bidding is now closed.
(Our
next auction
takes place March 21, 2020.)
---