---
Extremely Rare and Important Five-Gallon Stoneware Cooler with Large Incised Fish Decoration, Inscribed "BRANDY", Stamped "TYLER & DILLON / ALBANY, NY", Moses Tyler and Charles Dillon, circa 1825-1834, large-sized, keg-form cooler with enclosed top including a filling orifice and rectangular bunghole with chamfered corners, the front decorated with a large and well-detailed incised design of a fish. Decorated above with the bold-faced, incised inscription, "BRANDY", indicating the variety of liquor this cooler was made to dispense.

Discovered by the consignor's family in an attic in New York State during the 1950s, this outstanding cooler features one of the finest incised fish decorations we have seen on a piece of American stoneware. Measuring 8 1/2" long, the fish assumes a fierce attitude, evident in its open mouth revealing a tongue and numerous teeth. The decoration includes wonderful, stylized details throughout, including a sail-shaped dorsal fin, vein-like scaling to body, and long, upswept tail with scalloped tip. The large inscription, "BRANDY", is incised in bold-faced letters with incised dashes throughout.

A few other closely-linked, keg-form coolers with incised fish decorations associated with Albany potter, Moses Tyler, are known. A second cooler, bearing the mark "TYLER & DILLON / ALBANY" and inscribed "BRANDY", is in the collection of the Albany Institute of Art. Another Tyler & Dillon cooler, inscribed "H. GIN", sold privately several years ago. A third, marked "M. TYLER & CO. / ALBANY", inscribed "H. GIN", and additionally decorated with a bee hive, is in the collection of the Smithsonian Museum of American History in Washington, D.C.

The similar penmanship among the incised liquor names and certain fine points of the incised fish motifs suggest a common maker or decorator to all four coolers. As all bear some form of Moses Tyler's maker's mark and all reveal the work of a true master at incised decoration, it can be assumed that Tyler himself was the maker of all four. In comparison to the three other mentioned coolers, the example in our July auction arguably features the best-colored cobalt slip decoration. Among the four, it is also the only example with a boldly-brushed star decorating the bunghole. Very few American stoneware objects of this quality have remained undiscovered for so long. This example epitomizes Albany stoneware production at its zenith during the 1820s to 1830s. Its lively fish design appeals to the sensibilities of stoneware, Americana, and folk art enthusiasts alike. Provenance: A fresh-to-the-market, recently-discovered example, which was discovered by the consignor's family in the attic of an early house in New York State. Long sealed crack on side of cooler, not visible from the front, which extends a very short distance onto underside. Sealed vertical crack on left side of cooler, which extends onto top and onto underside as a short hairline, and is not visible from the front. A long thin crack extending from left side of cooler onto front under fish. This crack primarily runs along the edge of the raised banding below the fish, is difficult to see, and includes two short hairlines which extend off from it under the fish. An 8" vertical hairline on reverse. A short, minor line on underside, which continues 1/2" up base on front. Two minor nicks to bunghole. A few minor chips to top edge. H 15 3/4".
---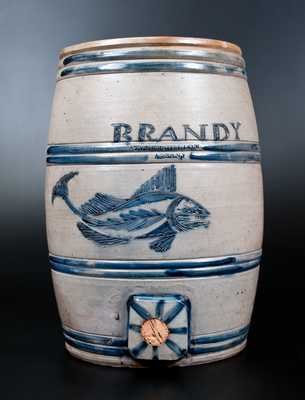 Click images to enlarge.