Bidding is now closed.
(Our
next auction
takes place March 21, 2020.)
---
Exceedingly Rare and Important Half-Gallon Stoneware Pitcher with Profuse Cobalt Decoration, Stamped Three Times "N. COOPER & POWER / MAYSVILLE, KY," third quarter 19th century, finely-potted pitcher with heavily-tooled body, tall collar with heavily-stepped rim, and ribbed strap handle, the pitcher's body decorated with an elaborately-brushed oval and draped swag design. This striking design is applied to both sides, meeting a third brushed oval at the center surrounding the Maysville, Kentucky mark, "N. COOPER & POWER. / MAYSVILLE. KY". This mark is additionally impressed on each side of the collar and surrounded by a brushed cobalt oval. The mark "N. COOPER & POWER" refers to the partnership of Maysville, Kentucky merchant Newton Cooper and his brother-in-law, Hugh Power. Power married Cooper's sister, Lavina, on May 15, 1850, and the couple was living with Newton Cooper by the time the census was recorded on August 6, 1850. Since the census also lists both men as Tin-ware Merchants, it is possible that the partnership of N. Cooper & Power had commenced by this time. Newton Cooper, son of Catharine Ricketts and Hugh Cooper, inherited a connection to the Maysville, KY, stoneware industry through both of his parents. Family members who were stoneware potters include: Grandfather - Rulef Ricketts (1759 – 1848) Father - Hugh Cooper (1791-1831) Uncle - Isaac Thomas (1791-1877) - Married to Sarah Ricketts (1788-1874) Uncle - Evan G. Ricketts (1785-1874) Uncle - Joseph Claghorn Mendell (1796-1863) Several cousins were engaged in the Maysville stoneware industry. An old note inside of the pitcher, which has since been lost, indicated that the pitcher was made as a presentation piece for the firm of Cooper & Power. This information is corroborated by the pitcher's elegant craftsmanship, strong decoration, and highly unusual triple impression of the merchants' stamp, which promotes or celebrates the firm. Newton Cooper frequently ordered stoneware from Greensboro, PA, made at both the Boughner and Hamilton factories. While the pitcher's form is strongly related to Western Pennsylvania stoneware production, its decoration is not. Furthermore, the impressed mark is in a different font and form than the typical Greensboro-produced jars for this firm, and the overall style of the piece appears to predate these examples. A Western Pennsylvania manufactory outside of Greensboro, or even a Kentucky origin of manufacture, is possible. Given the fact that several Cooper relatives were engaged in the potting industry (namely members of the Thomas family as well as Evan G. Ricketts), it is possible that a member of Cooper's family made this elaborate pitcher celebrating the beginning of the Cooper and Power partnership. It is also possible, although less likely, that this pitcher was made at a Maysville stoneware factory briefly owned by Cooper and Power. More research would need to be conducted. Regardless, Newton Cooper was unquestionably a very active businessman with obvious ties to both the Western Pennsylvania and Maysville stoneware industries. One of the finest examples of Kentucky merchant stoneware known. Provenance: A fresh-to-the-market example from a long-term Southern U.S. collection. Purchased in Kentucky decades ago. Excellent overall condition with professional restoration to two upper beads on right half of spout, and some minor restoration to rim on reverse. H 8 1/2".
---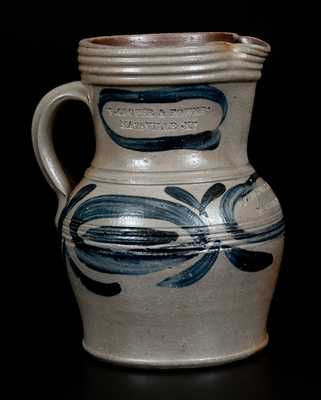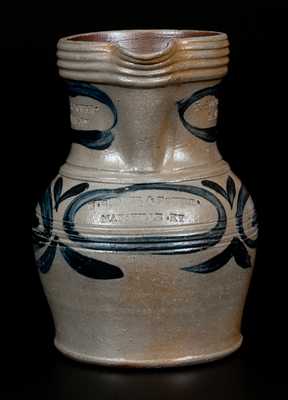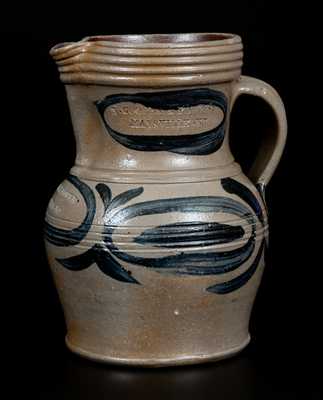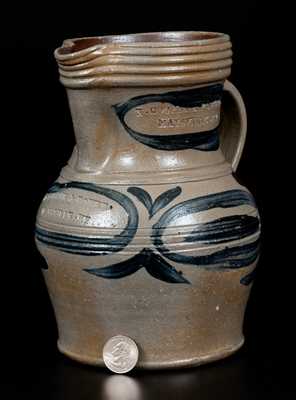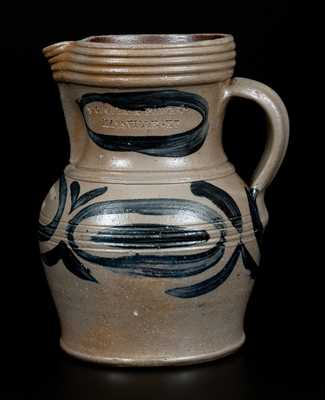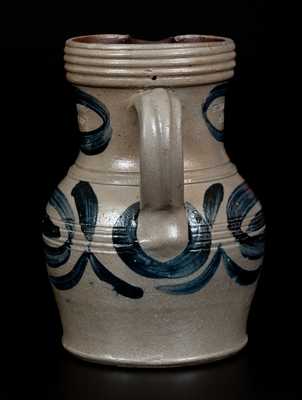 Click images to enlarge.