Exceedingly Rare and Important New York Stoneware Ring Jug w/ Incised Birds, Inscribed "Daniel Meritt his Ring Jug"
July 20, 2013 Stoneware Auction
Lot #: 36
Price Realized: $12,650.00
($11,000 hammer, plus 15% buyer's premium)
PLEASE NOTE: This result is 7 years old, and the American ceramics market frequently changes. Additionally, small nuances of color, condition, shape, etc. can mean huge differences in price. Please Contact Us for a Current, Accurate assessment of your items.
Auction Highlight: July 20, 2013 Auction | New York City Stoneware | Incised Stoneware
Exceedingly Rare and Important Presentation Stoneware Ring Jug with Incised Bird Decoration, Incised "Daniel Meritt his Ring Jug," Crolius or Remmey Family, Manhattan, NY, early 19th century, wheel-thrown, ring-shaped jug with applied pedestal base and pouring spout; each side decorated with a large incised design of a bird with well-detailed wings and eyes, one bird perched on a leaf, the other on stylized ground. Incised decoration delicately filled with strong cobalt slip. Shoulder of jug incised with the cobalt-accented inscription for the owner of the jug, "Daniel Meritt his Ring Jug". The "Daniel Meritt" of this jug is pretty clearly Captain Daniel Merritt (1784-1849), the only man of such a name we have found in Manhattan city directories of the time period. Born in Sing Sing, Merritt moved to Manhattan as a boy and followed in his father's footsteps as a shipmaster. As owner of the ships "Union" and "Theodore", he ran a packet service between New York City and Greenwich, Connecticut. Merritt became somewhat notable for breaking a British blockade off of Greenwich during the War of 1812, evading the enemy ships and arriving safely at New York Harbor. Circumferential cobalt highlights to junctures of ring jug with pedestal base and spout. Additional heavy cobalt highlights to underside of pedestal and rounded lip of spout. Evidently, the cobalt slip was applied to this jug at various junctures not only as a decorative treatment, but also as a means of joining the sections of the jug together during manufacture. This newly-discovered example is important on a number of levels. To begin with, this ring jug is possibly the earliest intact American stoneware example of the form known. The majority of stoneware ring jugs in existence were produced in the South during the latter half of the 19th century, well into the 20th century. This form, which was highly unusual for the time period, may have been specially-made for Merritt's use while at sea. The jug's pedestal base allowed the form to be displayed vertically if so desired, but the jug could also be layed flat to keep it from tipping in turbulent waters. The style of the incised decoration, color of the clay and cobalt, as well as aspects of the form, place its origin in Manhattan, NY, sometime during the late 18th or very early 19th century. While this example may be the earliest American stoneware ring jug known, it must also be noted that it is also the first of its kind known from the city of Manhattan. The distinctive, finely-executed bird motifs on the jug indicate it was most likely produced by a member of the prominent Crolius or Remmey families of Manhattan, two of the most significant potting families in our nation's history. A significant, historical discovery in early American stoneware. Provenance: Recently found stored in the basement of a Manhattan, NY home. A 5/8" hole on reverse with a tight 3 1/4" line extending through it. Otherwise excellent condition. H 10 1/2".
---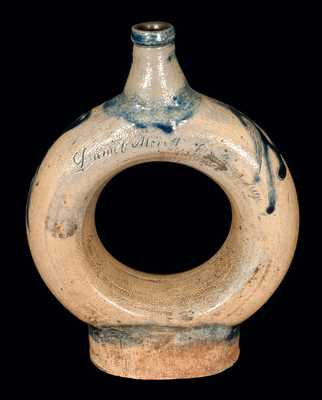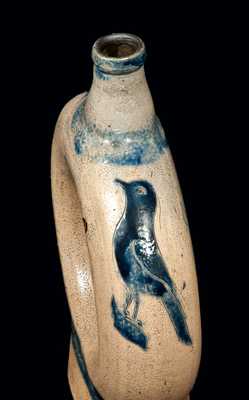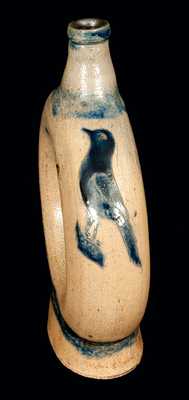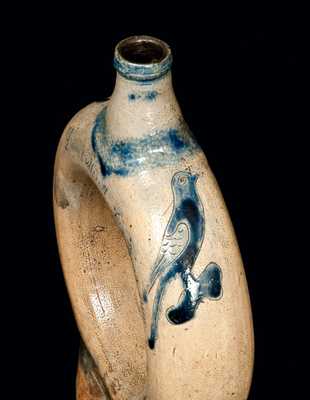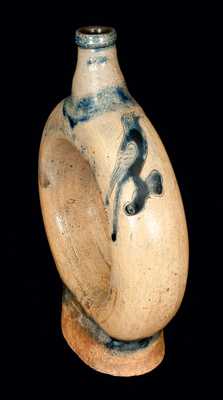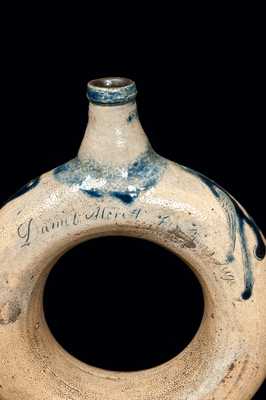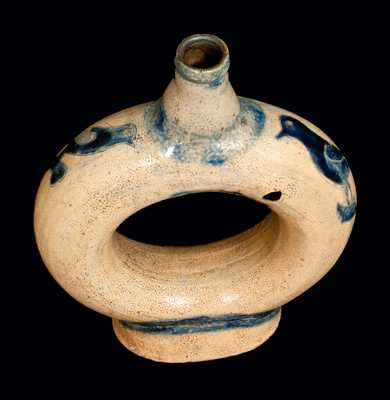 Click images to enlarge.
---
Bidding is now closed.
(Our
next auction
takes place March 21, 2020.)
---