Important Five Gallon Edgefield, SC Stoneware Jar Signed "Dave / March 19, 1857 / L m"
March 2, 2013 Stoneware Auction
Lot #: 373
Price Realized: $17,250.00
($15,000 hammer, plus 15% buyer's premium)
PLEASE NOTE: This result is 6 years old, and the American ceramics market frequently changes. Additionally, small nuances of color, condition, shape, etc. can mean huge differences in price. Please Contact Us for a Current, Accurate assessment of your items.
Auction Highlight: March 2, 2013 Auction | Southern Pottery
Rare and Important Five-Gallon Alkaline-Glazed Stoneware Jar, Signed and Dated "Dave / March 19, 1857 / Lm," David Drake, Lewis Miles' Stoney Bluff Manufactory, Edgefield District, SC, highly-ovoid jar with thin, rounded rim and angled, applied tab handles, the surface covered in a streaky, rusty-brown and olive alkaline glaze. Shoulder deeply and distinctly incised with the signature of the Edgefield, SC slave potter, Dave, along with a date, and the initials of pottery owner, Lewis Miles. Shoulder additionally incised with an unusual vertically-oriented line of five punctuates (indicating five gallons) as well as two slashes, both traits associated with Dave's work. Dave (ca. 1800-1875) bears the distinction of being one of America's most celebrated and studied African-American artisans. He was born into slavery about the year 1800, and it is believed he learned how to pot, as well as read and write, from an early master, Harvey Drake. Dave would be owned by several families and operate at different shops throughout his long life as a potter. He is most well-known for the incised writing on his pots, often in the form of poetic couplets. The ability to read and write was discouraged among slaves of the American South, and Dave's words, carved boldly into the wares he produced, are considered a wonderful insight into the life and views of one enslaved man, as well as an assertion of his abilities as an artist. According to Goldberg and Witkowski's groundbreaking article in Ceramics in America 2006, the potter dated a single piece each day. Dated examples from March 12, March 20 (the day after this jar was made), and March 24, 1857 have been recorded. The jar to be auctioned is considered a significant, recent find, and was not included in the over 150 Dave pieces documented in Goldberg and Witkowski's 2006 article. Unsigned work by Dave is highly collectible in its own right. Signed examples, such as this jar, are considered important artifacts of Southern American and African-American history, and are difficult-to-find on the secondary market. Provenance: A fresh-to-the-market example. 2 1/2" chip to rim on side of jar. 2" shallow chip to back edge of one handle. Some tight hairlines to front. H 14 1/2".
---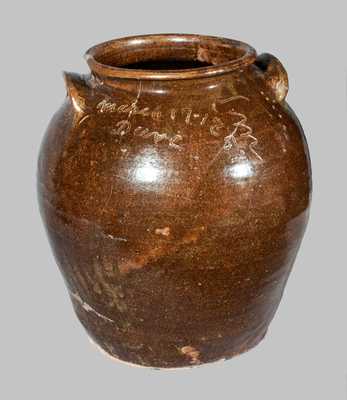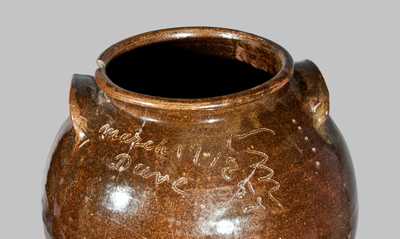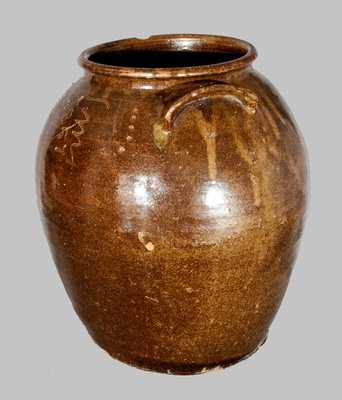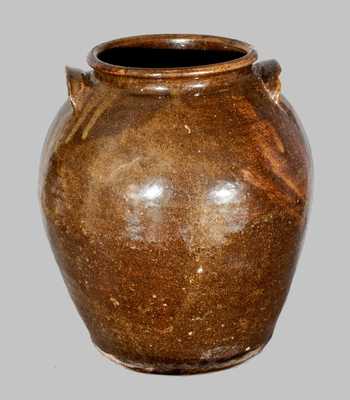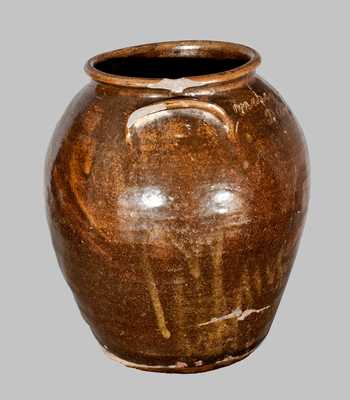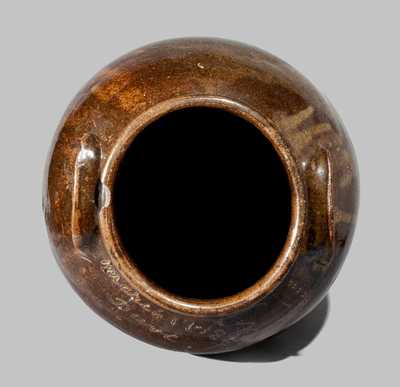 Click images to enlarge.
---
Bidding is now closed.
(Our
next auction
takes place March 21, 2020.)
---