Antique American Folk Art Crock (New York City Stoneware)
March 8, 2008 Stoneware Auction
Lot #: 1
Price Realized: $63,250.00
($55,000 hammer, plus 15% buyer's premium)
PLEASE NOTE: This result is 12 years old, and the American ceramics market frequently changes. Additionally, small nuances of color, condition, shape, etc. can mean huge differences in price. Please Contact Us for a Current, Accurate assessment of your items.
Auction Highlight: Greatest Hits | March 8, 2008 Auction | New York City Stoneware | Remmey Pottery | Incised Stoneware
Exceedingly Rare and Important Folk Art Stoneware Jar with Incised Man Decoration and Humorous Slogan, Incised at Base "Bill Remey," Manhattan, NY origin, circa 1799-1801, straight-sided jar with tooled shoulder, decorated with the incised and cobalt-highlighted figure of a finely-dressed, bearded man in top hat and coat. Man's legs and hat with cross-hatched incising and coat with impressed buttons. Extending from the figure's mouth are the words "I have shit / my trowsers but / that['s] nothing." Incised at base "Bill Remey," brushed over in cobalt. Reverse decorated with a brushed cobalt flowerhead at the shoulder. William Remmey is a member of the well-known Remmey family of potters, probably the brother, uncle or cousin of John Remmey III and Henry Remmey, Sr. He is listed in NY city directories as a potter working on Upper Reed St. from 1799-1801, where he was working alongside John III and Henry at the family stoneware manufactory. Prior to these dates he is listed as a city marshal and tobacconist. He may be the "Willem Remmi" who, according to New York City Reformed Dutch Church records, was born to John Remmey I and Anna Corcelius on October 25, 1741. This would make him the brother of John, Jr., and the uncle of John III and Henry. The name "Bill Remey" written below the figure may serve as a signature on the jar. However, it is more likely that the jar was made at the Remmeys" shop by one of their employees or at the shop of another local potter, with whom Remey was acquainted, to commemorate an unfortunate, but very comical, episode in his life.Though incised floral, bird, and ship designs from this period can be found, human decorations are virtually non-existent. A truly remarkable piece of early American stoneware, whose importance and appeal as a folk art object cannot be overstated. Rim and base chips. H 10".
---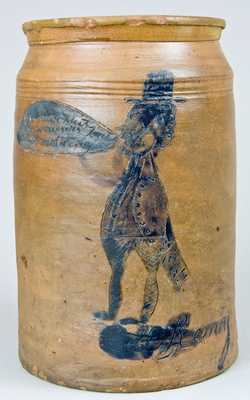 Click images to enlarge.
---
Bidding is now closed.
(Our
next auction
takes place March 21, 2020.)
---