Bidding is now closed.
(Our
next auction
takes place March 21, 2020.)
---
Important and Possibly Unique Fifteen-Gallon Stoneware Jar with Exuberant Freehand Cobalt Decoration, Signed "Hamilton & Joness Pottery / Union Works / Greensboro, Pa.," circa 1867, straight-sided jar with lug handles and incised, circumferential banding, decorated with freehand cobalt words incorporated into a circular design. Jar reads "Hamilton & Joness Pottery / 1867 / Union Works / Greensboro, Pa / Virtue Liberty / Independance. / IXL / United States of America." Center of cobalt circle brushed with a thick band of cobalt. Exterior of circle with scalloped cobalt lines. Cobalt asterisks at base of circle, along with a "15" within a cloud-like outline, flanked by two large X"s. A vine of leaves with graduated flowers at base. Interestingly, the interior of each flower progresses from having a closed interior, to an interior with one cobalt dot, then two cobalt dots, followed by three. Freehand cobalt vines with leaves running vertically on the left and right sides of the crock"s front. Cobalt stripes on collar and one at base. Collar also decorated with a row of cobalt dots. A large cobalt "X" under each handle. Handle terminals highlighted in cobalt. Likely one of the most outstandingly-decorated examples of Western PA stoneware known. A skillfully-crafted and decorated piece with ruled lines incised into the clay as a guide for writing. Incised lines also reveal a compass was employed to create the circular design in which the words are painted. Made at the pottery of Frank Hamilton and John Jones in Greensboro, PA. According to Phil Schaltenbrand"s Stoneware of Southwestern Pennsylvania, rare jars with the spelling "Joness" likely refer to the marriage of John Jones to Frank Hamilton"s sister, Mary Ann. An important fifteen-gallon jar in the collection of Waynesboro College bears the inscription "Hamilton & Joness Pottery / 1867 / Union Works / Greensboro, Pa" written in a similar fashion, yet with no patriotic reference. The bold, patriotic slogan on this jar is probably unique to any known examples of Western PA stoneware. The initials "IXL" are a mystery. A few potters from Virginia and North Carolina impressed their ware with these initials. Some have claimed the letters refer to "Indian Exchange Lands." This jar was likely not intended to be used, instead probably serving as a store-front piece advertising the pottery. An outstanding example of ceramic Americana. Filled and colored crack around midsection, with a vertical crack, also repaired, extending downward from it onto underside. Pitting to crock, particularly to reverse and section on upper left front of jar. Height 22 1/2".
---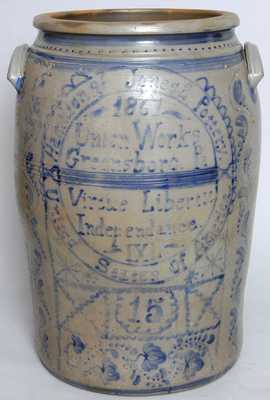 Click images to enlarge.