Anna Pottery Snake Jug, Wallace & Cornwall Kirkpatrick, Anna, Illinois
May 21, 2005 Stoneware Auction
Lot #: 215
Price Realized: $7,150.00
($6,500 hammer, plus 10% buyer's premium)
PLEASE NOTE: This result is 15 years old, and the American ceramics market frequently changes. Additionally, small nuances of color, condition, shape, etc. can mean huge differences in price. Please Contact Us for a Current, Accurate assessment of your items.
Auction Highlight: May 21, 2005 Auction | Anna Pottery
Phenomenal Salt Glazed Stoneware Jug with Applied Snakes and Frogs, Incised Map, and Cobalt and Manganese Decoration, attributed to Wallace and Cornwall Kirkpatrick, Anna Pottery, Anna, Illinois, circa 1880, unusually-formed, ovoid jug with recessed center and applied snake handle. Snake wraps around the jug"s spout, while two other snakes tangle around two frogs applied to the jug"s shoulder area. Snakes with incised scale and facial details, and decorated with alternating bands of cobalt and manganese. Frogs with manganese decoration. Jug itself decorated on one side with an incised and cobalt-highlighted map within an incised rectangle. Map includes the following rivers and places: St. Louis, Poplar Bluff, Cairo, Miss River, Ohio Ri-, Fort Smith, Ark River, Memphis, Little Rock, Benton, Malvern, and Hot Springs. Reverse of jug decorated with a second incised rectangle with cross-hatched incised lines forming a diamond pattern. Interior of diamonds with incised dots. Diamond pattern highlighted in cobalt. Surrounding area of jug covered completely with bright cobalt. This snake jug bears the incised map decoration most commonly associated with the Kirkpatricks" pig bottles; the Arkansas locations included on this map may be the southernmost locales ever included on incised Anna Pottery maps. The snake motif is said to warn against the evils of alcohol, which jugs such as this one were produced to hold. Interestingly, this jug was discovered in Hot Springs, Arkansas, where many suffering from alcoholism would travel to soak in the mineral waters, which were said to have curative powers. A highly creative example of Anna Pottery stoneware and a superior example of American ceramic folk art. Broken into several pieces and reglued; resulting lines are almost invisible in many places. Head of snake handle missing. Section of snake handle reglued. Height 7 1/4".
---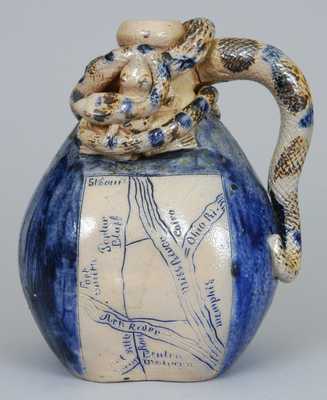 Click images to enlarge.
---
Bidding is now closed.
(Our
next auction
takes place March 21, 2020.)
---