Very Rare Stoneware "Hot Spring" Flask by Anna Pottery or Texarkana Pottery
November 3, 2018 Stoneware Auction
Lot #: 75
Price Realized: $10,030.00
($8,500 hammer, plus 18% buyer's premium)
PLEASE NOTE: The American ceramics market frequently changes, often dramatically. Additionally, small nuances of color, condition, shape, etc. can mean huge differences in price. Please do not hesitate to Contact Us for a Current, Accurate assessment of your items.
Extremely Rare Cobalt-and-Manganese-Decorated "Hot Spring" Flask with Applied Woman Decoration, Anna or Texarkana Pottery, Anna, IL or Texarkana, AR origin, circa 1880, molded flask of flattened form with flared spout, one side decorated with a relief image of a man in Elizabethan dress with plumed hat, belt, and sword, surrounded by a cross-hatched border. Reverse with smaller Elizabethan figure surrounded by a textured clay surface. Shoulder decorated with a hand-modeled and applied figure of a woman with molded head, grasping the flask by the neck, her billowing dress revealing a naked underside. When used, the tipping of the flask would expose the woman's genitalia, causing an uproar from those in the drinker's company. The flask is inscribed below the figure with the words, "hot Spring". Surface decorated with heavy cobalt and manganese highlights throughout and covered in a clear salt glaze. Underside slightly-recessed to mimic molded glass examples of the 19th century. This flask is closely-related to an example, previously of the Ellis Collection, which lacks the applied woman figure and is incised, "Tom and Jerry", a popular winter cocktail similar to egg nog. This term was also used colloquially during the 19th century to described rowdy behavior, as displayed by the characters from an 1820s English journal, published monthly, under the title: "The Day and Night Scenes of Jerry Hawthorn Esq., and his elegant friend, Corinthian Tom, accompanied by Bob Logic, the Oxonian, in their rambles and sprees through the Metropolis." This story became popular in English and American theaters as well. The "hot Spring" flask clearly bases its style on the Kirkpatricks iconic "shoo fly" jugs, which depict an African-American woman grasping the neck of a jug, while batting a fly, also with bare underside. The inscription, "hot Spring", below the woman has a dual meaning, referencing urination and the Arkansas city, Hot Springs, named after its natural heated springs. Anna Pottery "Railroad and River Guide" pig flasks also include this landmark, jestfully written in front of the pig's genitals. This recently-discovered work may have been made at Wallace and Cornwall Kirkpatrick's Anna Pottery in Anna, IL or at the Texarkana Pottery of Anna-influenced potter, Jacob Bachley, in Texarkana, AR. The color of the flask's clay and decoration matches a number of Tekarkana products and its recent discovery in an Arkansas family further supports a Bachley attribution. Among the most outstanding examples of Anna school stoneware to be brought to light in recent years, modeled after one of the Kirkpatricks' most iconic forms. Provenance: A fresh-to-the-market example, which has descended in an Arkansas family since the early 20th century. Family history states that it was used well into the 20th century as a family member's personal drinking flask. Excellent condition with a tight vertical firing line along seam on one side and a minor base chip. H 5 7/8".
---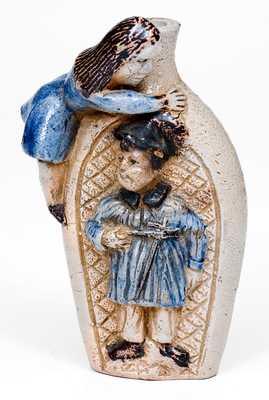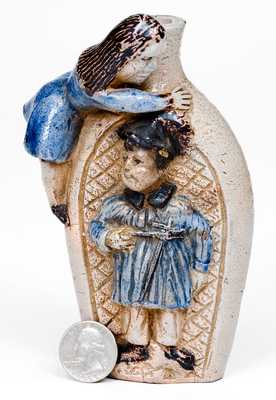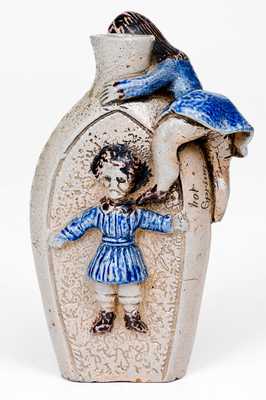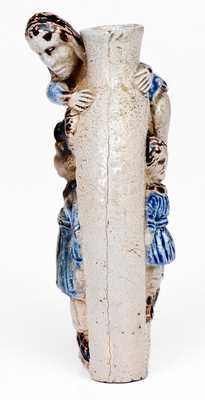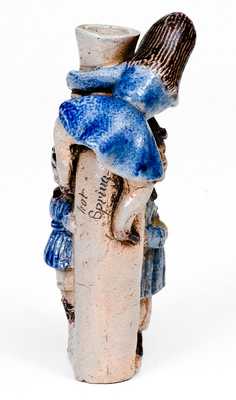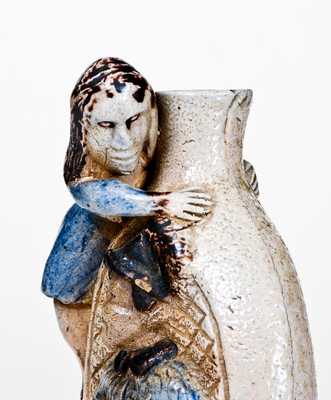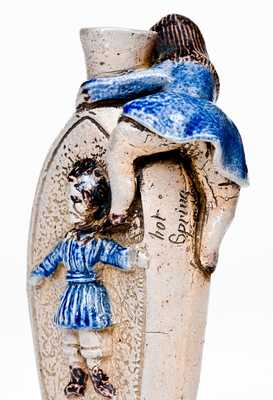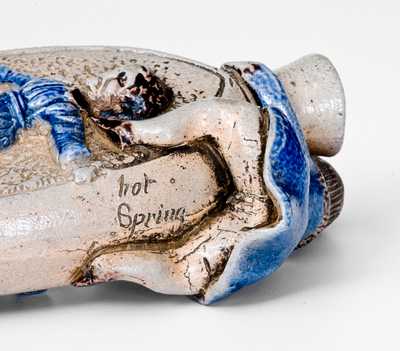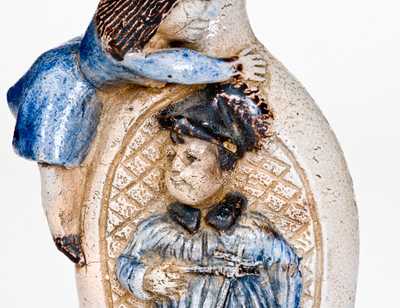 Click images to enlarge.
---
Bidding is now closed.
(Our
next auction
takes place October 26, 2019.)
---