Exceptional Stoneware Memorial Urn, probably Central PA origin, made for Potter Joseph Zuber
November 3, 2018 Stoneware Auction
Lot #: 24
Price Realized: $15,340.00
($13,000 hammer, plus 18% buyer's premium)
PLEASE NOTE: This result is 2 years old, and the American ceramics market frequently changes. Additionally, small nuances of color, condition, shape, etc. can mean huge differences in price. Please Contact Us for a Current, Accurate assessment of your items.
Auction Highlight: November 3, 2018 Auction | Central PA Stoneware
Outstanding Large-Sized Stoneware Memorial Urn with Cobalt and Manganese Floral Decoration, Inscribed "SACED(sic) to MEMORY of / JOSEPH ZUBER / BORN JUNE the 20TH AD 1791 / DIED MAY the 7th AD 1843", probably Southcentral Pennsylvania origin, circa 1843, sculptural, cylindrical form, thrown in two conjoined sections, with inset base, flared foot, and pinched piecrust molding, culminating in a bulbous, jar-shaped top with squared opening for planting. Body of urn inscribed with the large incised inscription, "SACED(sic) to MEMORY of / JOSEPH ZUBER / BORN JUNE the 20TH AD 1791 / DIED MAY the 7th AD 1843", highlighted in cobalt slip flecked with purplish-brown highlights, most likely a mixture of cobalt oxide and manganese dioxide. A horizontally-brushed flowering vine and vertically-brushed flowering vine, the second with incised stem, appear between the incised words. Additional two-color slip spots are brushed above. Top of urn is heavily-decorated with a vine motif in the same two-color-slip. The raised moldings of the urn are highlighted in thickly-applied cobalt and purplish-brown manganese slip. Joseph Zuber appears in an 1818 U.S. Army enlistment roll as a potter living in Carlisle, Cumberland County, Pennsylvania. Born in Lebanon, PA, nothing is known about Zuber's potting career and only scant references to him exist in the historical record. It is unclear exactly where he was residing and working when he met his death, although this urn displays two-color (cobalt and manganese) slip seen on stoneware produced in nearby Huntingdon County, most notably by Henry Glazier. However, while Glazier produced stoneware with flowering vine motifs, this decoration is clearly not in his hand. A remarkable piece of ceramic art in terms of form, decoration, and color, all enhanced by the object's monumental proportions and history as an object made with affection for a fellow deceased potter. Provenance: Purchased by the consignor several decades ago from a Midwestern folk art dealer. Some losses to piecrust molding. Some short, in-the-firing surface lines, which are glazed over. Shallow chips to interior of rim. A 3 3/4" line from rim, which forms a small inverted Y. A 1 3/4" line from rim on interior, a small portion of which is visible on exterior. H 24 1/2".
---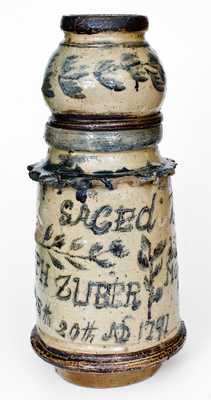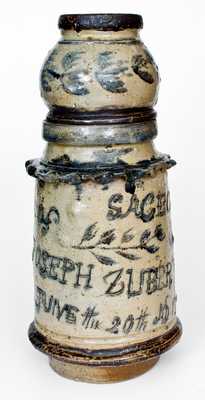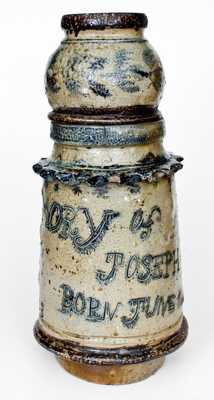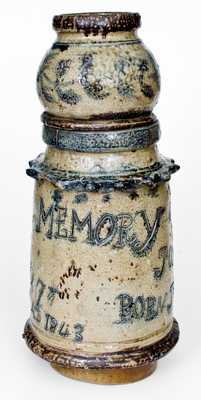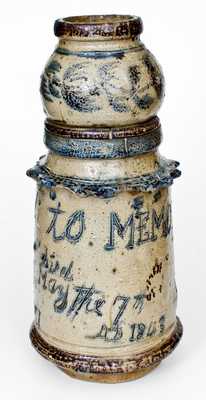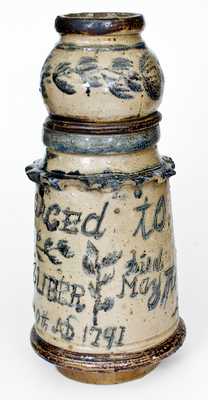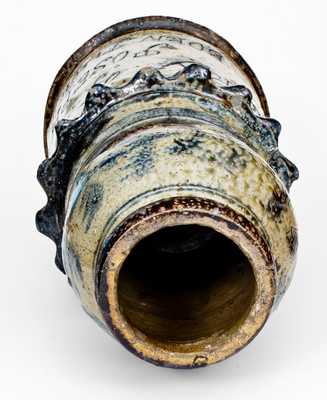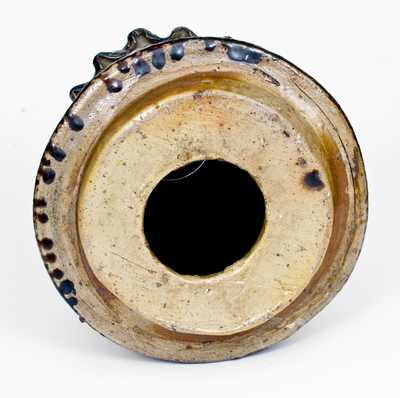 Click images to enlarge.
---
Bidding is now closed.
(Our
next auction
takes place March 21, 2020.)
---