Exceedingly Rare and Fine Thomas Commeraw Stoneware Jug, African-American New York Potter
October 28, 2017 Stoneware Auction
Lot #: 44
Price Realized: $17,700.00
($15,000 hammer, plus 18% buyer's premium)
PLEASE NOTE: This result is 3 years old, and the American ceramics market frequently changes. Additionally, small nuances of color, condition, shape, etc. can mean huge differences in price. Please Contact Us for a Current, Accurate assessment of your items.
Exceedingly Rare and Important Stoneware Jug with Profuse Impressed Drape-and-Tassel Decoration, Thomas Commeraw, Manhattan, NY, circa 1805, skillfully-potted, rotund jug with rounded foot, heavily-tooled spout, and ribbed handle, the shoulder impressed with the cobalt-highlighted maker's mark, "N. YORK / COMMERAWS STONEWARE / CORLEARS / HOOK", including an impressed and cobalt-highlighted drape-and-tassel motif surrounding the words, "COMMERAWS STONEWARE". An additional decorative stamp, unknown in Commeraw's work, flanks the impressed words. Rectangular in form with a scalloped edge, this stamp appears to be a drape-like embellishment or perhaps a horizontal flower blossom. Additional cobalt highlights appear within the maker's mark and accent the handle terminals. This jug is one of a very few examples known with the words, "COMMERAWS STONEWARE", impressed in a single line. As the jug assumes a wider, more ovoid shape than Commeraw's typical jugs, it appears that the piece was potted with this longer signature in mind. In addition, the decoration is significantly more elaborate than that found on most examples of Commeraw's stoneware. An anomaly in Commeraw's work is additionally noted in the reversed "N" in the impression "N. YORK". One of the most striking aspects of this jug is its color. Its fine, light-gray clay, bright cobalt slip, and uniform glaze, indicate a potter whose skill may have rivaled that of his contemporaries on Pot Baker's Hill, Clarkson Crolius, Sr. and John Remmey III. Indeed, variety of characteristics of this jug suggest it was made early in the production of Commeraw's stamp-decorated ware, possibly to advertise the quality of his work. Commeraw has gained notoriety in recent years as Brandt Zipp has discovered the potter's African ancestry. This information distinguishes Commeraw as one of the earliest African-American master craftsmen to operate his own establishment in the United States. Recognition of Commeraw continues to spread. In February 2016, pieces of his pottery were on display at the White House in conjunction with the opening of the National Museum of African-American History and Culture in Washington, D.C. The Chipstone Foundation is currently presenting an exhibit at the Constance and Dudley Godfrey American Art Wing in the Art Milwaukee Museum, entitled "The Dave Project: Exploring African-American Material Culture", in which Edgefield slave potter, David Drake, and several other African-American artisans are represented. Thomas Commeraw is among those featured, his display including a painting by artist, Mutope J. Johnson (b. 1954), depicting the potter with a wagon of his stoneware, including two jugs decorated in the manner of this example. Despite recent, rising interest in Commeraw, we feel an appreciation for the importance of this potter and his work has yet to be fully realized in museum and collecting circles. In-the-firing dry section to top of spout along with a few small, smooth chips to top of spout near handle, all of which were caused by a kiln stacker during the firing. 2" shallow chip to side of jug, also probably in-the-firing. Glazed-over, in-the-firing spidering hairlines at base. 5" hairline to shoulder on right side of jug. H 14 3/4".
---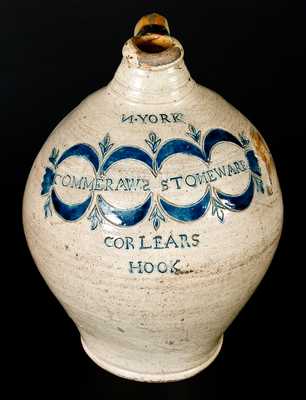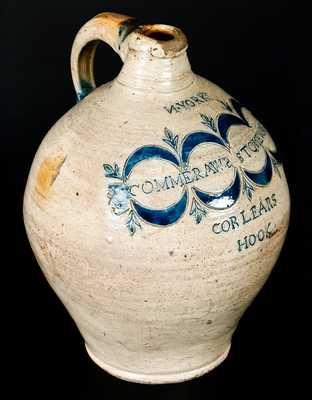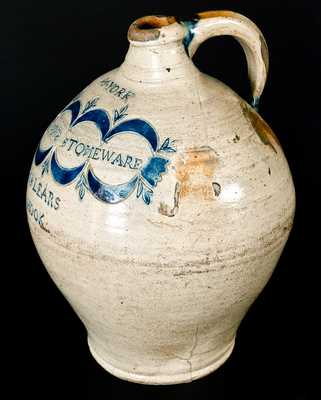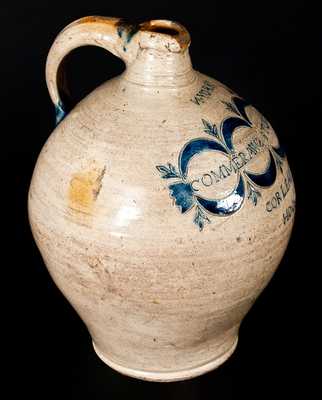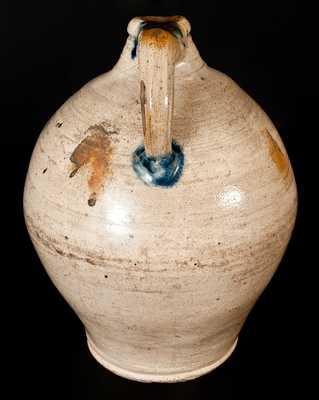 Click images to enlarge.
---
Bidding is now closed.
(Our
next auction
takes place March 21, 2020.)
---