Rare and Important Alamance County, NC Redware Sugar Jar, c1790-1820
October 28, 2017 Stoneware Auction
Lot #: 1
Price Realized: $59,000.00
($50,000 hammer, plus 18% buyer's premium)
PLEASE NOTE: This result is 3 years old, and the American ceramics market frequently changes. Additionally, small nuances of color, condition, shape, etc. can mean huge differences in price. Please Contact Us for a Current, Accurate assessment of your items.
Auction Highlight: Greatest Hits | October 28, 2017 Auction | Southern Pottery | Redware
Rare and Important Redware Sugar Jar with Three-Color Slip Decoration, Alamance County, NC origin, circa 1790-1820, highly-ovoid jar with footed base, vertically-flanged rim, and horizontal strap handles, decorated around the midsection with slip-trailed cross and fleur-de-lis motifs in manganese and cream-colored slip, surrounded by rectangular manganese-slip borders, interspersed with vertical wavy trails of copper slip. Jar is further decorated below this design with alternating straight and wavy bands of copper and manganese slip, as well as above with geometric motifs girded between bands of copper, manganese, and cream-colored slip. Each handle is finely-decorated with a manganese cross, accented with copper and manganese spots, the terminals additionally decorated with vertical manganese stripes flanking alternating spots of copper and manganese. This extravagantly-decorated jar required over two-hundred individual trails and spots of slip to produce, and ranks among the finest examples of North Carolina slipware to come to auction in years. Its use of a cross and fleur-de-lis design, as discussed by Beckerdite, Brown, and Carnes-McNaughton in their Ceramics in America 2010 article, "Slipware of the St. Asaph's Tradition", is rarely-found on sugar jars from this region; this local design is more commonly found on early Alamance County dishes as well as later products by Solomon Loy. This jar is additionally noteworthy in its form, being one of only two sugar jars with vertically-flanged rims known at the time of the publication of the Beckerdite, Brown, and Carnes-McNaughton article. Provenance: Christie's, The John Gordon Collection of Folk Americana, Jan. 15, 1999, Lot 298. Exhibited: Art in Clay: Masterworks of North Carolina Earthenware, Old Salem Museum & Gardens, Chipstone Foundation, Caxambas Foundation, September 2, 2010 to September 1, 2013. Literature: Illustrated in fig. 72, p. 57 of Beckerdite, Brown, and Carnes-McNaughton, "Slipware from the St. Asaph's Tradition", Ceramics in America 2010. Chips (two small ones reglued into place along the rim flange on one side) and wear to rim, light wear to handles, some surface wear to midsection and interior, all typical of slipware pieces of this age and origin. H 10 1/2".
---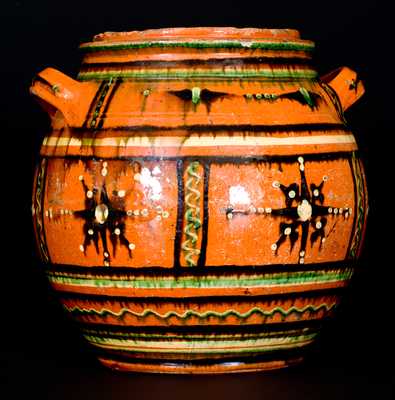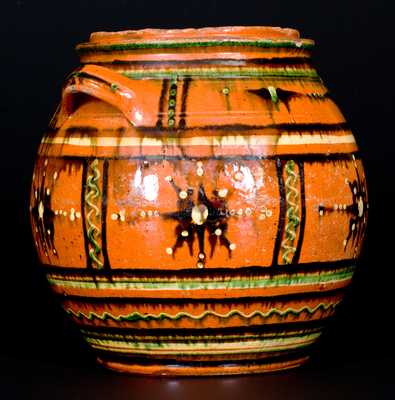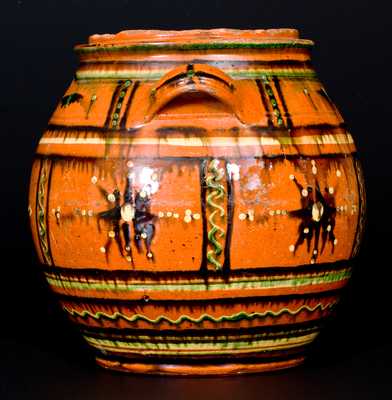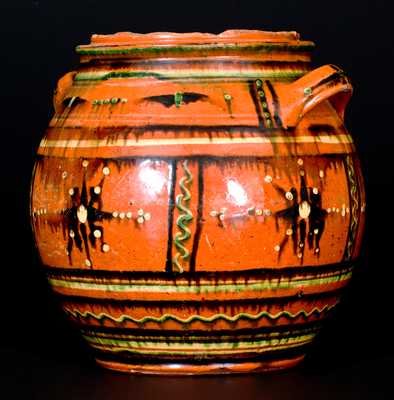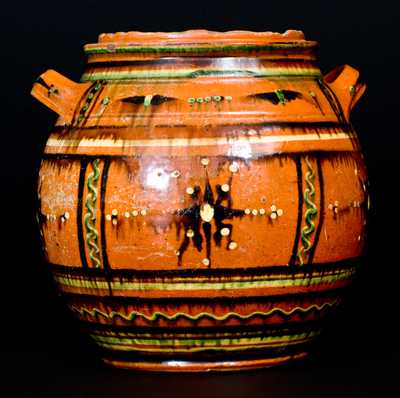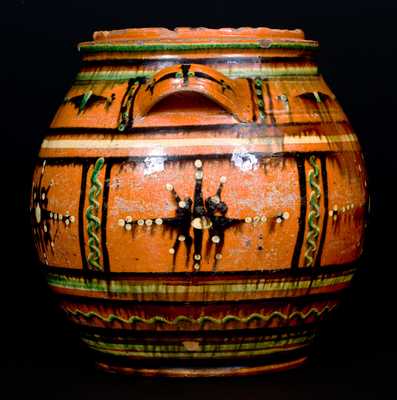 Click images to enlarge.
---
Bidding is now closed.
(Our
next auction
takes place March 21, 2020.)
---