Extremely Important Samuel Troxel Sgraffito Redware Plate, Montgomery County, PA, 1833
July 22, 2017 Stoneware Auction
Lot #: 1
Price Realized: $82,600.00
($70,000 hammer, plus 18% buyer's premium)
PLEASE NOTE: This result is 3 years old, and the American ceramics market frequently changes. Additionally, small nuances of color, condition, shape, etc. can mean huge differences in price. Please Contact Us for a Current, Accurate assessment of your items.
Auction Highlight: Greatest Hits | July 22, 2017 Auction | Redware
Exceedingly Rare and Important Sgraffito-Decorated Redware Plate with Bird-and-Flowering-Urn Motif, Inscribed "Ich koche was ich kan; Was mey Sau nicht frest; Das frest mey mann; Sa.l Tr.l [Samuel Troxel] / Ja.y 25th 1833 a[nno] F[ecit]" Reverse signed in incised script, "Samuel Troxel / Potter To uperhanover / Township Montgomery / County January us the / 25th A.D. 1833," with coggled edge, the interior featuring a sgraffito decoration of two birds perched on a flowering plant emanating from an open-handled urn. Central flower features sgraffito berries extending from the blossom, from which the birds appear to be feeding. Additional sgraffito swag decoration flanking each bird. The decoration conveys a superb mastery of the sgraffito technique, with bold, diamond-shaped sections of red clay forming the flowers' more-prominent petals, heavy detail to the birds' wings, and striped and spotted accents to the birds' body and tail. Decoration accented with daubs of copper-oxide. Border of plate incised with the sgraffito inscription, "Ich koche was ich kan; Was mey Sau nicht frest; Das frest mey mann;", a humorous remark translating to "I cook what I can; What my sow doesn't eat; That is what my husband eats;". These words are followed by an abbreviated signature and date: "Sa.l Tr.l / Ja.y 25th 1833 a[nno] F[ecit]". Outside of museum collections, relatively few examples of Pennsylvania-German sgraffitoware are known in high-grade condition. The early age of manufacture of most pieces, and the technique involved in creating them, has resulted in a large number with moderately to heavily damaged surfaces. In contrast, this plate survives in a remarkable state of preservation with essentially no wear to the fragile decoration on the interior. The significance of the plate is magnified by its elaborate inscription on the reverse side, distinguishing it as likely one of only two examples bearing a Troxel signature on the reverse, the second residing in the collection of Winterthur. Also of note is the fact that this plate bears the same date of manufacture as an iconic Troxel plate, inscribed "Liberty for Gackson", owned by the Philadelphia Museum of Art. The sale of this object offers a rare opportunity to acquire a fine-conditioned, signed work of sgraffitoware by one of the leading masters of this decorative technique. When considering the decoration, maker, signature, and condition of this example, it can easily be regarded as one of the finest pieces of Pennsylvania redware to come to auction in the past decade or more. Literature: For a Troxel plate bearing the same date, see Garvan, The Pennsylvania-German Collection, p. 205, fig. 143. Provenance: A fresh-to-the-market example, acquired privately in the 1980s, this plate will be offered publicly for the first time in its existence. Excellent overall condition with rim chips and essentially no wear to interior. Interior surface remains bright and lustrous. The remarkable condition of this plate suggests it was rarely used. Diameter 10 1/4".
---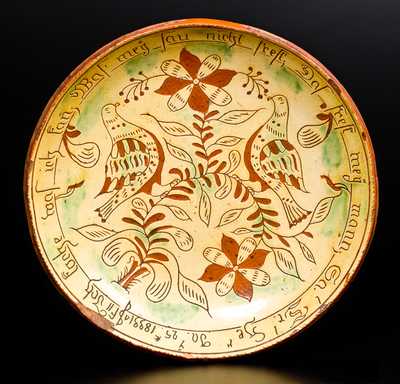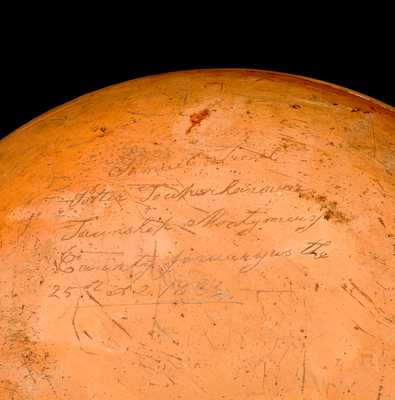 Click images to enlarge.
---
Bidding is now closed.
(Our
next auction
takes place March 21, 2020.)
---