Monumental 8-Gal. Ohio Stoneware Water Cooler w/ Incised Federal Eagle Design
July 16, 2016 Stoneware Auction
Lot #: 338
Price Realized: $14,950.00
($13,000 hammer, plus 15% buyer's premium)
PLEASE NOTE: This result is 4 years old, and the American ceramics market frequently changes. Additionally, small nuances of color, condition, shape, etc. can mean huge differences in price. Please Contact Us for a Current, Accurate assessment of your items.
Auction Highlight: July 16, 2016 Auction | Ohio & Midwest | Incised Stoneware
Monumental Eight-Gallon Open-Handled Stoneware Water Cooler with Elaborate Incised Federal Eagle Design, Ohio origin, circa 1840, vasiform cooler with ovoid body, octagonal bunghole, and open handles with raised lower terminals. Decorated on the front with a large incised and cobalt-highlighted design of a Federal eagle with impressed screw-head eye and stylized shield, clutching an olive branch in one foot and a horse in the other. Incised with a large, bold-faced number 8 above, with cobalt-highlighted interior. Bunghole surrounded by cobalt highlights. The highly unusual design of a horse grasped in the eagle's talons may be a reference dating back to Greek mythology, where an olive branch represented peace and a horse symbolized war. Made circa 1840, this patriotic cooler may allude to America's involvement in a number of conflicts during the 1830s and 1840s. The Indian Removal Act of 1830, which forcably relocated Eastern Native American tribes to the West, led to a number of battles, both large and small, between the government and indigenous people. This period also witnessed a number of events related to the Mexican-American War, including the Battle of the Alamo in 1836, culminating in the war itself in 1846 and 1847. General Zachary Taylor's success at the Battle of Palo Alto in May of 1846 was well-publicized throughout the country at the time. Of interesting note was his employment of a horse or "flying" artillery, which was devastating against the Mexican army. With its imposing size, sculptural form, and outstanding figural decoration, this cooler ranks as one of the finest examples of Ohio stoneware to come to auction in the past several years. Reglued and colored section on underside. Otherwise excellent condition. H 21".
---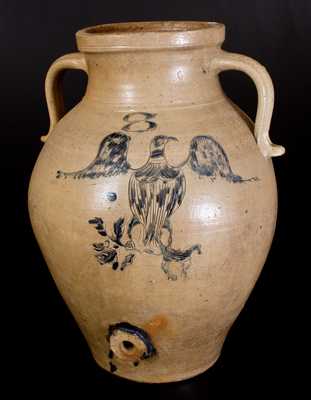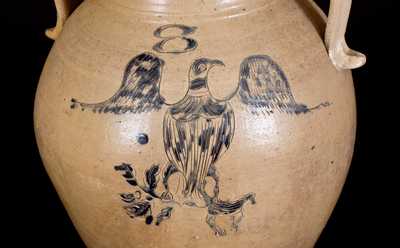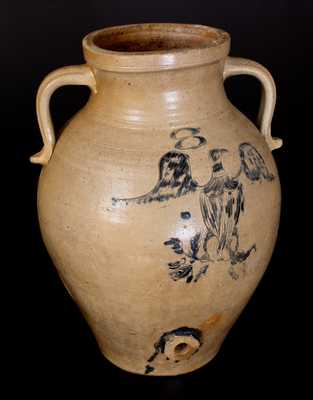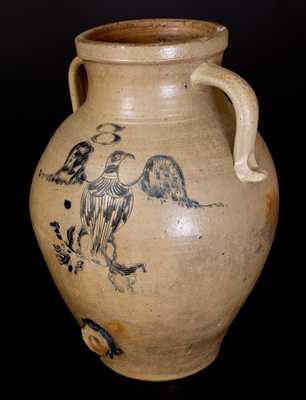 Click images to enlarge.
---
Bidding is now closed.
(Our
next auction
takes place March 21, 2020.)
---