Bidding is now closed.
(Our
next auction
takes place March 21, 2020.)
---
Important and Possibly Unique Six-Gallon Stoneware Jar with Incised and Brushed Cobalt Eagle Decoration, Stenciled "HAMILTON & JONES," circa 1870, cylindrical jar with incised banding at midsection, tooled shoulder, flattened rim, and applied lug handles, the jar featuring an incised and brushed cobalt design of a spread-winged eagle, flanked by freehand flourishes and stenciled oak leaves. Additional profuse freehand decoration throughout jar, with a freehand fuchsia design at shoulder, dots below rim, and stripes throughout. Stenciled with the well-known Greensboro, PA maker's stenciling, "Hamilton & Jones," across midsection. Stenciled "6" at base. This jar is the first example of Greensboro, PA stoneware we have seen with a freehand-decorated eagle. The style of the freehand decoration and stenciled signature indicate it was produced relatively early in the partnership of John Jones and Frank Hamilton, circa 1870. It may be one of Hamilton & Jones's first attempts at producing stoneware with eagle decorations, a predecessor to their later, smaller stenciled eagle designs. It could also be seen as a response to the large stenciled Federal eagle designs employed by Frank Hamilton's uncle, James Hamilton. A significant recent discovery in Western Pennsylvania stoneware, surviving in remarkable condition. Provenance: A newly-discovered example, consigned from Texas. Excellent, essentially as-made condition with a small in-the-firing stone ping to cobalt band, which does not extend through to interior.
---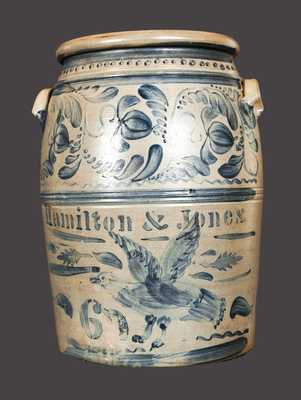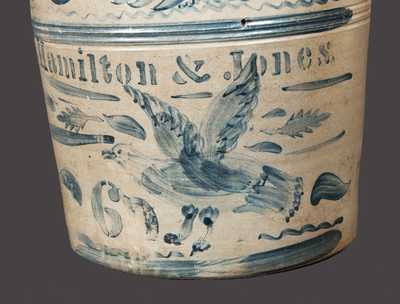 Click images to enlarge.