Bidding is now closed.
(Our
next auction
takes place March 21, 2020.)
---
Extremely Rare Miniature Copper-Glazed Redware Pitcher and Bowl Set, attributed to S. Bell & Sons, Strasburg, VA origin, circa 1890, diminutive, ovoid-bodied cream pitcher with footed base and flared collar, included with its original bowl with curved walls and semi-rounded rim, both with lead-and-copper glazed surfaces. A solid lead-and-copper glaze was poured into the interior of the pitcher and bowl, to create a sufficient coating for their rigorous use by a child. The exteriors feature a mottled lead-and-copper glaze, applied in a fashion consistent with the "multi-glaze" of the period. While an attribution to J. Eberly & Company would also be considered plausible for this set, a few details strongly suggest it was made by S. Bell & Sons. Its light clay ground, either inherently yellowish or lightly slip-coated, is closely-related that found on pitcher and bowl sets with molded handles that were made at the S. Bell & Sons Pottery. In addition, a vase of similar size and glaze was found among a number of Bell pieces that descended in the family of Betty Cooley, wife of Richard Franklin "Polk" Bell, which were consigned to Crocker Farm, Inc.'s, July 17, 2010 auction. (This vase was sold in lot 59 of that sale.) Lastly, just as the pitcher is potted as a perfectly-scaled, miniature copy of Strasburg creamers of the period, the bowl follows the shape and rim style of a number of surviving redware bowls bearing the mark "S. Bell & SON / STRASBURG". Though we are aware of at least one Strasburg multi-glazed cream pitcher of similar size, this is the first miniature pitcher we have seen made with a matching bowl. John Bell, brother and uncle of the S. Bell & Sons potters, produced a number of similarly-styled sets at his Waynesboro shop, a possible inspiration for this example. An important recent discovery in Shenandoah Valley redware. Provenance: Recently discovered in West Virginia. Pitcher in excellent condition with very minor rim wear. Bowl in excellent condition with a faint 5/8" hairline from rim and very minor rim wear. H (of pitcher) 3 1/8". H (of bowl) 1 1/8" ; Diam. (of bowl) 3 1/4".
---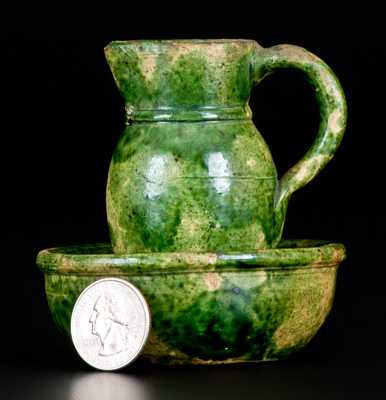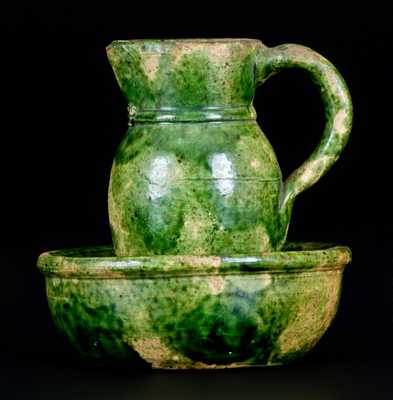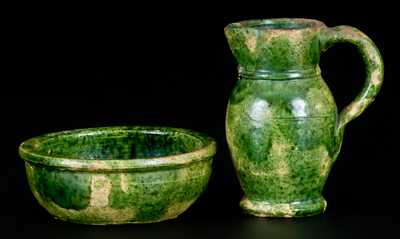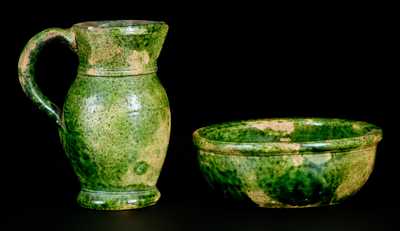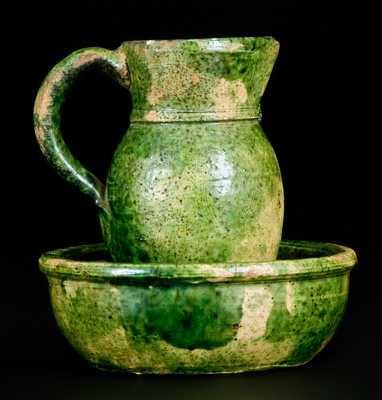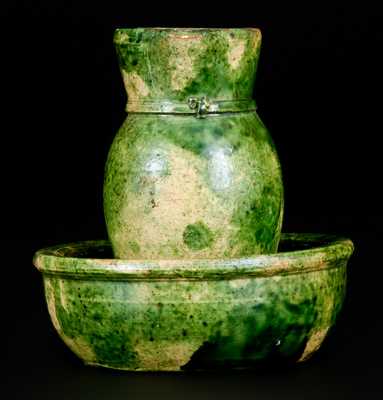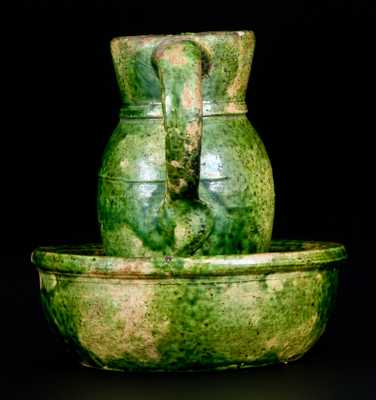 Click images to enlarge.