Important Charles Decker (Tennessee) Stoneware Pitcher for Henry Harrison "Harry" Remmey
July 16, 2016 Stoneware Auction
Lot #: 69
Price Realized: $12,650.00
($11,000 hammer, plus 15% buyer's premium)
PLEASE NOTE: This result is 4 years old, and the American ceramics market frequently changes. Additionally, small nuances of color, condition, shape, etc. can mean huge differences in price. Please Contact Us for a Current, Accurate assessment of your items.
Auction Highlight: July 16, 2016 Auction | Southern Pottery
Miniature Stoneware Presentation Pitcher with Elaborate Cobalt Foliate Decoration, Stamped "HARRY REMMY / PRES BY, C.F.D TENN.", Charles F. Decker, Sr., Keystone Pottery, Chucky Valley, Tennessee, circa 1875, ovoid pitcher with footed base, tooled shoulder, and flared collar, featuring the impressed and cobalt-highlighted presentation inscription, "HARRY REMMY / PRES BY, C.F.D TENN.". Underside additionally impressed "TENN". Surface decorated throughout with finely-brushed cobalt-slip leaves, including three emanating from a central stem on the left side. Spout decorated with delicate cobalt stripes. Handle decorated with thick cobalt stripes, along with heavy highlights to the handle terminals. This outstanding recent discovery ranks as one the most significant finds in Tennessee stoneware of the past several years. Few pieces of American stoneware we have seen show a clear link between master potters and the shops in which they began their careers. This pitcher was made by Charles Decker as a gift for Henry Harrison Remmey, Jr. (1842-1909), known as Harry, a member of the illustrious Remmey family of potters, by whom Decker was previously employed. Harry Remmey was the son of the venerable, New-York-trained potter, Henry Harrison Remmey (1794-1878), who was also active in Baltimore, and ultimately established a long-standing operation in Philadelphia in 1827, where Decker worked upon his arrival in America from Germany. It is presumed that Decker, who was ten years older than Harry Remmey, worked alongside the young craftsman at the family pottery and established a friendship with him there. For a period, Decker opened his own operation in Philadelphia, known as The Keystone Pottery, only to seek out a new frontier in the South. This piece tells the story of many 19th century artisans, who worked for years in Northern and Mid-Atlantic states, and eventually traveled to the South or West through the Great Wagon Road (which actually began at the port of Philadelphia). Boldly-stamped twice with the abbreviation, "TENN", on the body and underside, this pitcher relates to the Remmey family that Decker had found suitable stoneware clay in Tennessee and had already established a shop. The light color of the clay, fineness of potting, and marked difference of the decoration from the Decker family's typical tulip motif of the 1880-1900 time period, all suggest this piece may be an early work, made shortly after Decker had commenced operation at his Tennessee pottery in 1872. Provenance: A fresh-to-the-market example, purchased in the mid 1980s outside of Philadelphia. Excellent condition with a faint 1 1/2" surface line to shoulder, not visible on interior, and presumably in-the-firing. H 4".
---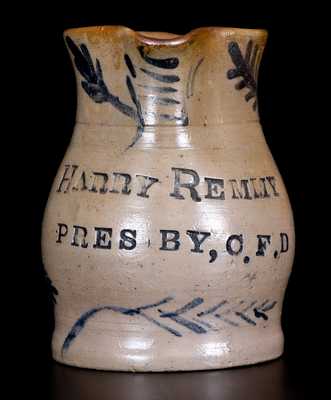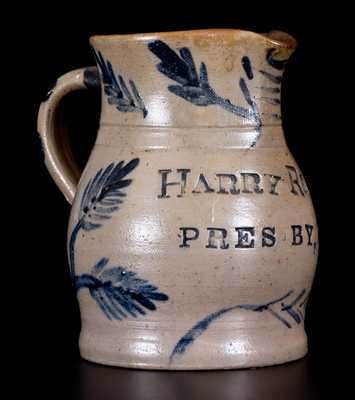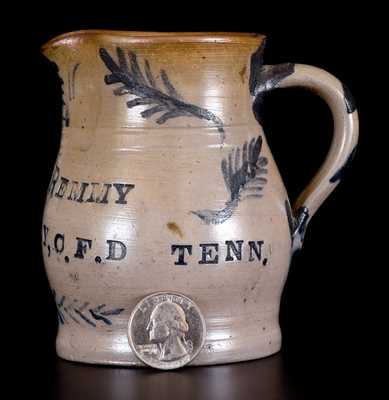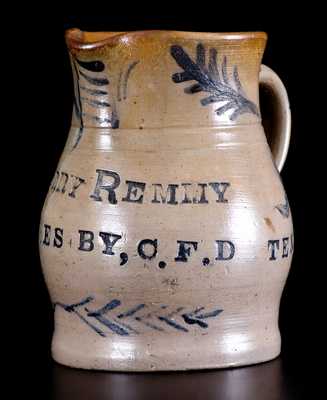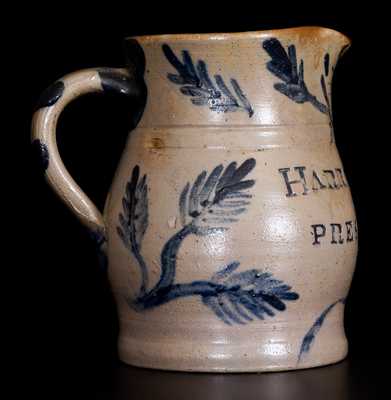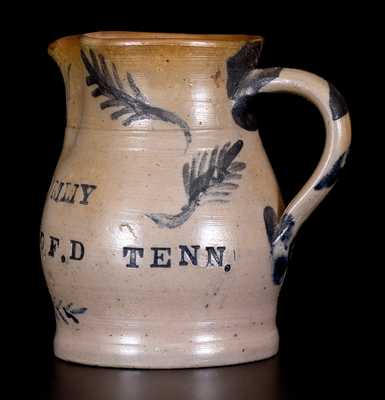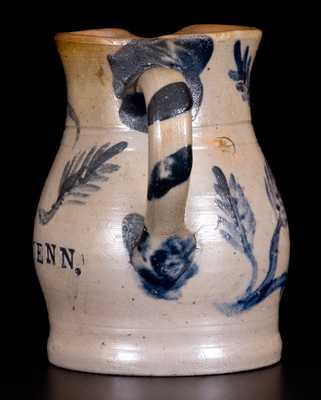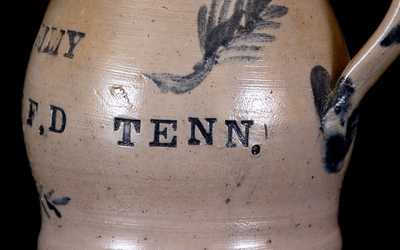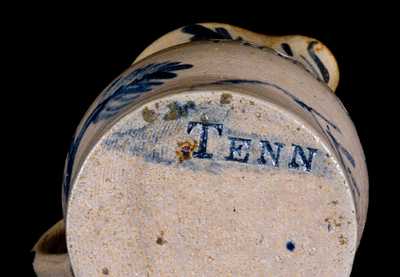 Click images to enlarge.
---
Bidding is now closed.
(Our
next auction
takes place March 21, 2020.)
---