Very Rare Alamance County, NC Southern Redware Sugar Jar w/ Profuse Three-Color Slip Decoration
March 19, 2016 Stoneware Auction
Lot #: 361
Price Realized: $28,750.00
($25,000 hammer, plus 15% buyer's premium)
PLEASE NOTE: This result is 4 years old, and the American ceramics market frequently changes. Additionally, small nuances of color, condition, shape, etc. can mean huge differences in price. Please Contact Us for a Current, Accurate assessment of your items.
Auction Highlight: Greatest Hits | March 19, 2016 Auction | Southern Pottery | Redware
Very Rare Small-Sized Redware Sugar Jar with Profuse Three-Color Slip Decoration, attributed to Jacob Albright, Jr. and Henry Loy, Alamance County, NC origin, circa 1790-1810, highly-ovoid jar with footed base, flared rim, and open strap handles, decorated in green, cream, and brown slip with a slip-trailed daisy and line motif, interspersed with alternating circumferential bands of cream and brown slip, all applied over a reddish slip-coated ground. Handles decorated with alternating stripes of green, cream, and brown slip. Interior and exterior surface covered in a clear lead glaze. Excellent form in an unusually small size, measuring roughly one-half-gallon to three-quarts, and featuring classic, early North Carolina motifs. The elegant potting and bold slip work on this jar reveal a high level of sophistication and artistry on the part of its maker. Until recently, jars of this type, including this exact example, have been attributed to the Moravian potters of Salem and Bethabara, North Carolina. Recent research, however, has revealed that pieces of this style were made in or around the St. Asaph's District of Alamance County, North Carolina, by members of the Loy and Albright families. The majority of known examples from this school are held in museum collections, most prominently at Old Salem Museum and Gardens in Winston-Salem, NC. Others can be found at the Colonial Williamsburg Foundation in Williamsburg, VA, the Henry Ford Museum in Dearborn, MI, and the Barnes Foundation in Philadelphia, PA. For more information on Alamance County, North Carolina redware, see Beckerdite, Brown, and Carnes-McNaughton, "Slipware from the St. Asaph's Tradition", Ceramics in America 2010; see also Beckerdite, Brown, Hunter, and Carnes-McNaughton, "Earthenware Masterworks from the St. Asaph's Tradition", Antiques and Fine Art Magazine, Winter 2010. Provenance: Christie's, The John Gordon Collection of Folk Americana, Jan. 15, 1999, Lot 312. Typical sporadic glaze loss. Minor base chips. Nicks and wear to rim. Remarkably, no cracks, and lead-glazed interior survives in essentially original condition. H 7".
---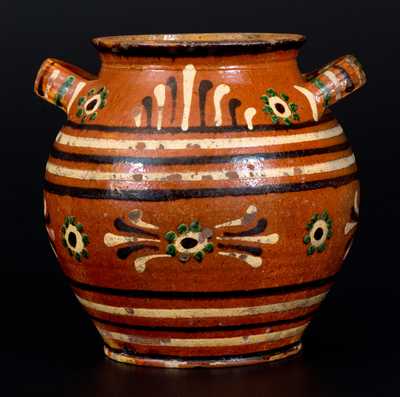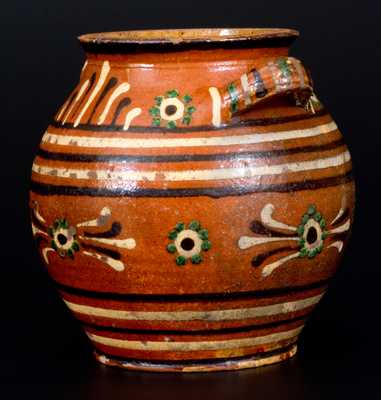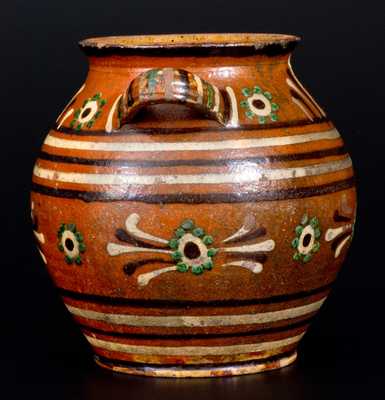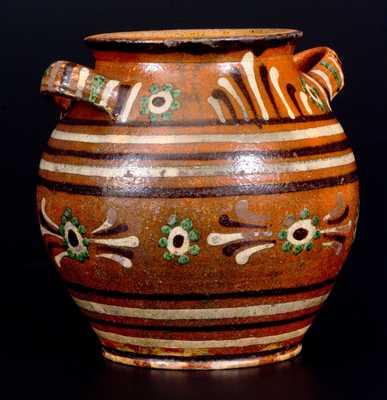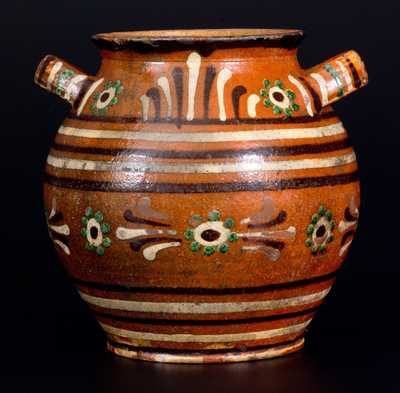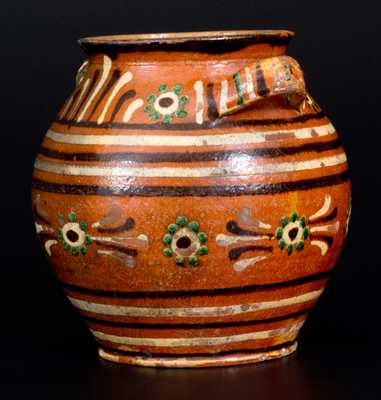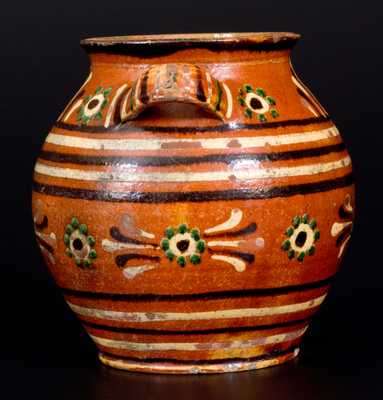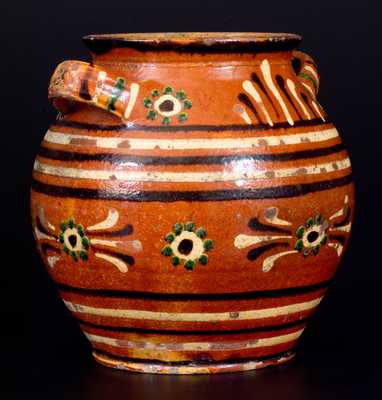 Click images to enlarge.
---
Bidding is now closed.
(Our
next auction
takes place March 21, 2020.)
---