Bidding is now closed.
(Our
next auction
takes place March 21, 2020.)
---
Exceedingly Rare and Important Shenandoah Valley Redware Memorial Urn with Poem, Incised "made by Anthony Bacher 1873," Thurmont, MD origin, wheel-thrown urn with incised banding, heavily-gadrooned handles, and impressed flower head decoration extending from an incised stem along shoulder and further decorating the base. Finely crimped rim is additionally accented with a coggled interior edge and incised wavy line along the top surface. Urn is incised around its circumference with two commemorative lines of writing. The first reads "Mollie C. Mackley died March 30th 1872 aged 1 year 11 months and 5 Days." The second includes an incised leaf or wave design and the name and date "Mollie C. Mackley. 1872" in large, finely incised script, followed by the poem "Here I rest my body and my breast; Remember me and I think of thee." Underside incised "made by Anthony Bacher 1873." Traces of white paint are visible on the interior and within the incised words and impressed decoration. This urn was made during a time period when Anthony Bacher rented and operated the Jacob Lynn Pottery in Thurmont, MD, and employed potter James C. Mackley (Comstock, pp. 361-363). Bacher and Mackley were associates as early as 1864, when both were employed by Lynn (Comstock, p. 438). Throughout their years together, Mackley learned to emulate and master Bacher's style. Today, pottery by James Mackley is regarded as some of the finest produced in the entire Shenandoah Valley. This urn was undoubtedly made by Bacher in remembrance of a member of Mackley's family, probably his daughter. Interestingly, an outstanding redware window box signed and dated by James Mackley was made the same year as this urn, and is also inscribed "Remember me." Perhaps the inscription on the window box was based upon that found on the urn, or maybe the urn"s inscription was based on that found on the window box. The highly unusual form, relationship to James Mackley, and extremely rare incised poem, elevate this urn to a level of great significance. One of the most important examples of Shenandoah pottery to be sold in recent years. Provenance: Purchased by an early collector of Americana from the Mackley family during the first half of the 20th century. He later presented it as a gift to its current owner. Urn appears to have been barely used. Some rim chips. H 5 3/4"; Diameter 12 1/2".
---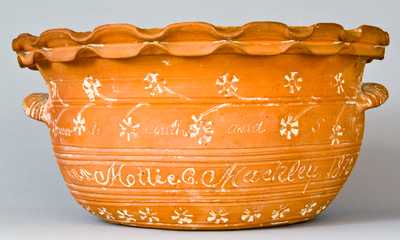 Click images to enlarge.