Bidding is now closed.
(Our
next auction
takes place March 21, 2020.)
---
Extremely Rare Four-Gallon Stoneware Water Cooler with Exuberant Slip-Trailed Floral Decoration, Stamped "B.C. MILBURN / ALEXA," Alexandria, VA origin, circa 1850, straight-sided cooler with squared rim, large tab handles, and hand-cut octagonal bung hole. Decorated with an elaborate slip-trailed flowering plant motif accented with dots, extending from a fern-like design at the base. Additional cobalt line design below the rim and scalloped line design under one handle. Reverse decorated with a top-to-bottom slip-trailed floral design with looping flowerheads and leaves, also accented with dots. These bold designs can be considered unique to this one example of Milburn pottery. This cooler is one of the finest examples of Alexandria stoneware to surface in some time, decorated with some of the thickest and strongest cobalt slip-trailing we have seen on a piece of Milburn stoneware. It is also one of only a small number of Alexandria water coolers known. Rim chip with vertical crack on reverse. 2 3/4" flake off back of one handle. In-the-firing touch mark on front. Chip on interior of rim. H 15 3/4".
---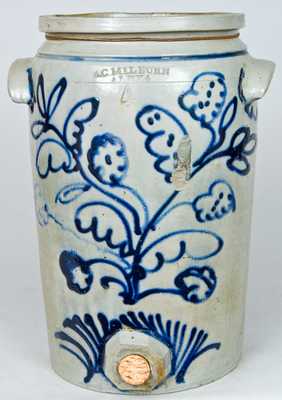 Click images to enlarge.