HOW TO BID
Click here for info on all of our various bidding methods.
AUCTION INFO
Next Auctions:
•May 4, 2013. Three-Session Sale: Textiles, The Maryland Sale, Americana
(More Info)
•July 20, 2013. Stoneware & Redware Pottery.
(More Info)
Location: Our historic gallery.

15900 York Rd, Sparks, MD 21152. (Directions.)
NOW ACCEPTING CONSIGNMENTS
Click here for a FREE pre-auction evaluation of your pieces!
Click here for more consignment info.
Redware Mug, attributed to John Bell, Chambersburg, PA
May 19, 2007 Stoneware Auction
Lot #: 51
||
(Facebook)
||
||
Price Realized: $5,635.00 (Price includes 15% buyer's premium).

AUCTION HIGHLIGHT!
(
May 19, 2007 Highlights
|
John Bell Pottery
)
Very Rare and Important Cobalt, Manganese, and Tin Glazed Redware Mug, attributed to John Bell, Chambersburg, PA, circa 1830, ovoid, jar-shaped mug with ribbed handle, decorated with cobalt and manganese sponging over a white tin ground. Excellent coloration and very rare usage of cobalt and tin glazes. Unusual small size. John Bell pottery from this period of production is considered very difficult-to-find. Pictured in Comstock, p. 131, figure 4. Rim chips and expected wear. H 4 1/2".
---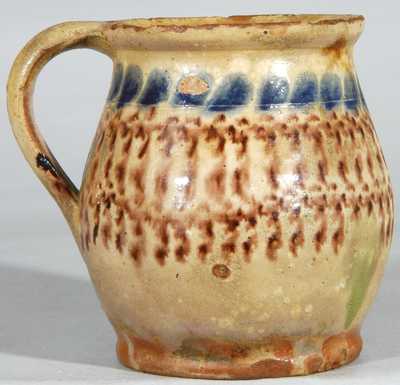 Click image to enlarge.
---