HOW TO BID
Click here for info on all of our various bidding methods.
AUCTION INFO
Next Auctions:
•May 4, 2013. Three-Session Sale: Textiles, The Maryland Sale, Americana
(More Info)
•July 20, 2013. Stoneware & Redware Pottery.
(More Info)
Location: Our historic gallery.

15900 York Rd, Sparks, MD 21152. (Directions.)
NOW ACCEPTING CONSIGNMENTS
Click here for a FREE pre-auction evaluation of your pieces!
Click here for more consignment info.
JOHN W. BELL / Waynesboro, Pa Redware Whippet Figure
WORLD AUCTION RECORD, BELL FAMILY REDWARE
May 21, 2005 Stoneware Auction
Lot #: 1
||
(Facebook)
||
||
Price Realized: $41,800.00 (Price includes 10% buyer's premium).

AUCTION HIGHLIGHT!
(
Greatest Hits
|
May 21, 2005 Highlights
|
Shenandoah Pottery
|
John Bell Pottery
|
Redware
)
Exceedingly Rare and Important Lead and Manganese Glazed Redware Figure of a Whippet, Stamped Three Times on Underside, "JOHN W. BELL / Waynesboro, PA," circa 1880, molded figure of a whippet dog with crossed legs on base, covered in streaks of manganese with clear lead overglaze. The resultant coloration produced on the surface of the figure is a vibrant and highly glossy yellow-orange with reddish-brownish mottling. Incised details to eyes, mouth, and paws. Impressed on underside with the maker"s mark of John B. Bell"s son, John William Bell, which reads "JOHN W. BELL / Waynesboro, Pa.." Traces of another "JOHN W. BELL / Waynesboro, Pa." stamp can be found on the underside, along with a mark on the edge of the underside that simply reads "JOHN W. BELL". John W. Bell"s history as a potter is outlined in H.E. Comstock"s The Pottery of the Shenandoah Valley Region on page 370. According to Comstock, John W. Bell began managing his father"s pottery around 1879. The earliest known dated piece of redware bearing John W. Bell"s impressed maker"s mark was made by an itinerant potter, Solomon Miller, in 1877, and can be found in Jeanette Lasansky"s Central Pennsylvania Redware Pottery. Comstock notes that John W. Bell was probably using his own stamp as early as 1860. Few examples of highly ornamental or figural redware by John W. Bell have survived. No signed John W. Bell whippets are pictured or mentioned in Rice and Stoudt"s The Shenandoah Pottery, Wiltshire"s Folk Pottery of the Shenandoah Valley, Comstock"s book, or in the Bell and Sons Exhibit Catalogue, which features Bell pottery items from Waynesboro displayed by the Nicodemus Center for Ceramic Studies in 1997. This example is also one of only a few known glazed whippets produced by any of the Bells in Winchester, VA, Waynesboro, PA, or Strasburg, VA. (The vast majority of those known have painted surfaces.) Outstanding color, rare signature, and highly desirable animal form. One of the most important examples of Shenandoah Valley pottery to surface in recent years. Recently discovered in Missouri. Some base chips and light wear to nose. Length 10".
---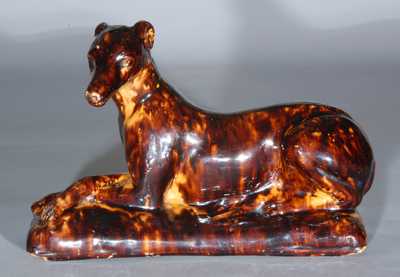 Click image to enlarge.
---