Gorsuch Barn, 1841.
We feel that our gallery is one of the most remarkable auction venues in the country. It is located at 15900 York Road, at the corner of York and Ensor Mill Roads, in Sparks, northern Baltimore County, Maryland. Above is a Microsoft "Photosynth" of our main gallery room, where the auction takes place. This 3D photo is created by stitching many different photographs together. Click the photo to load it; once loaded, simply click and drag in any direction to look around. You will notice that some of the "stitching" does not line up exactly correctly--resulting in some beams appearing disjointed, for instance--but for those who have never set foot in our building, this gives you a great idea of what the barn looks like inside, today.
The Gorsuch Barn, as it appeared circa 1936.
Courtesy Library of Congress.
Gorsuch Barn was built in 1841 by Edward Gorsuch, a wealthy landowner in Verona, Maryland--now known as Sparks. Its well-known exterior of "brick louvres set in native stone" has been called the best example in the State of Maryland. In the 1950's, the barn was converted into what was essentially a strip mall in its time, with multiple businesses trading out of the building--and this conversion transformed the interior from the original, open barn space into a first and second floor full of smaller, dry-walled rooms. When we took possession of the barn in July 2010, we had no real concept of what remained of the original barn structure inside, behind all of the modern dry wall. A newspaper article from the fifties referenced a huge amount of timber being removed from the building in the process of the renovations, and we (despite being optimistic) believed that most of the 1841 support beams had been gutted. However, after beginning to peel back the layers of modern construction, it became apparent that--remarkably--basically all of the original structure was present! It took a good three months to remove what had been done to the barn since it fell into disrepair in the early twentieth century, but we were able to preserve an architectural treasure. Those who visit what is now our auction gallery are consistently struck by the original wooden beams, the look of the brick vents set into the interior walls, and the striking rough-cut pine ceiling that we had experts install across the length of the barn. Following our restoration, the barn was featured in the high-profile Maryland Public Television documentary, Historic Barns of Maryland, and our very own Luke Zipp appears in that film.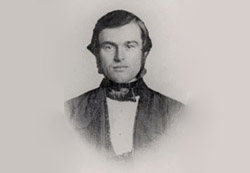 Dickinson Gorsuch (c. 1854), who operated the barn after his father's death. No image of Edward Gorsuch exists, but Dickinson is supposed to have resembled him.
The barn's builder, Edward Gorsuch, became one of the central figures in a largely-forgotten episode in American history that--at its time--was one of the biggest stories in the nation, and served to amp up tensions as our country moved toward civil war. Gorsuch owned slaves, who were employed in the many tasks involved with harvesting the large amounts of wheat he kept in his barn, along with other crops. In late 1849, one of these slaves, Abraham Johnson, seems to have stolen a significant quantity of wheat out of the "corn house" that stood behind the barn--very possibly the one that still stands on the west side of our property. As Gorsuch became aware of this, and his slaves began to fear his reprisal, one night four of them climbed out of a skylight and made their way north on the "York turnpike" (now York Road). They eventually took refuge at the home of a free black abolitionist named William Parker, who lived in Christiana, Lancaster County, Pennsylvania.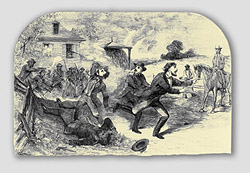 The Christiana Tragedy
, as imagined in 1886.
After a couple of years had passed, Gorsuch learned the whereabouts of his former slaves, and resolved to go get them. He underestimated what would occur when he attempted to re-kidnap men living in the midst of a large, free black, abolitionist community. On September 11, 1851--one hundred and fifty years to the day before 9/11--Gorsuch approached the "Riot House" (as it was later dubbed) with his son, Dickinson, various relatives and acquaintances, and a U.S. marshal. As one can imagine, the men did not acquiesce to Gorsuch's claims, and after an exchange of words (Gorsuch repeatedly demanded his "property") and weapons (various things were thrown at the Gorsuches, and shots were apparently fired, as well), all Hell broke loose. In the end, Edward Gorsuch was shot and killed and Dickinson almost succumbed to his wounds. When he eventually did die in 1882, his body was still clearly pockmarked by the pellets he had taken thirty years prior. Although it was still a decade before the conflict that almost destroyed our nation, the Christiana incident was called "The First Blow" of "Civil War" in a contemporaneous newspaper; it was later cited by John Wilkes Booth as one of the causes of his disaffection, and celebrated by Frederick Douglass, who claimed to have received Gorsuch's revolver as a present.
Those who would like to read more about the Christiana Riot should get a copy of the excellent Bloody Dawn: The Christiana Riot and Racial Violence in the Antebellum North by Thomas P. Slaughter (1994).

A couple of other good, earlier accounts are available for free on Google books: The Christiana Riot and The Treason Trials of 1851 by W. U. Hensel (1911) and A True Story of the Christiana Riot by David R. Forbes (1898).