HOW TO BID
Click here for info on all of our various bidding methods.
AUCTION INFO
Next Auctions:
•May 4, 2013. Three-Session Sale: Textiles, The Maryland Sale, Americana
(More Info)
•July 20, 2013. Stoneware & Redware Pottery.
(More Info)
Location: Our historic gallery.

15900 York Rd, Sparks, MD 21152. (Directions.)
NOW ACCEPTING CONSIGNMENTS
Click here for a FREE pre-auction evaluation of your pieces!
Click here for more consignment info.
H Lowndes / Manufactor / Petersburg / Va Stoneware Jar
November 01, 2008 Stoneware Auction
Lot #: 250
||
(Facebook)
||
||
Price Realized: $3,680.00 (Price includes 15% buyer's premium).

AUCTION HIGHLIGHT!
(
Nov. 1, 2008 Highlights
|
Virginia Stoneware
)
Rare Three-Gallon Stoneware Jar, Signed in Script "H Lowndes / Manufactor / Petersburg / Va," circa 1840, ovoid jar with semi-squared rim and applied lug handles, decorated with a brushed and slip-trailed cobalt tree of life design flanking the slip-trailed words "H Lowndes / Manufactor / Petersburg / Va." Additional slip-trailed looping line design extending from handle to handle. Slip-trailed "3" above maker's mark. Professionally restored handle chip. Otherwise as-made condition. H 13 3/4".
---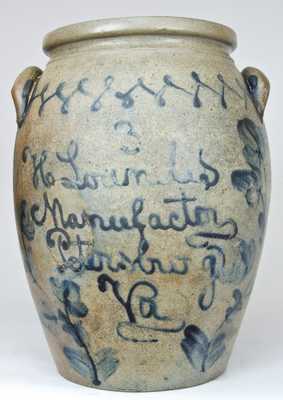 Click image to enlarge.
---