HOW TO BID
Click here for info on all of our various bidding methods.
AUCTION INFO
Next Auctions:
•May 4, 2013. Three-Session Sale: Textiles, The Maryland Sale, Americana
(More Info)
•July 20, 2013. Stoneware & Redware Pottery.
(More Info)
Location: Our historic gallery.

15900 York Rd, Sparks, MD 21152. (Directions.)
NOW ACCEPTING CONSIGNMENTS
Click here for a FREE pre-auction evaluation of your pieces!
Click here for more consignment info.
Samuel Bell Strasburg 1844 Shenandoah Valley Redware Whippet
November 01, 2008 Stoneware Auction
Lot #: 149
||
(Facebook)
||
||
Price Realized: $12,075.00 (Price includes 15% buyer's premium).

AUCTION HIGHLIGHT!
(
Nov. 1, 2008 Highlights
|
Shenandoah Pottery
|
Redware
)
Extremely Rare Painted Redware Figure of a Whippet, Signed "Samuel Bell Strasburg 1844," molded figure of a whippet with turned head reclining on a rectangular base. Whippet assumes a previously-unknown straight-legged pose. While all previously-known Bell whippets have molded crossed legs, it is believed that this whippet's legs were reconfigured after the figure was removed from the mold. The front and back paws are incised by hand, and the dog's surface is painted black with white paws and eyes. The base is painted a dark green and the underside is signed in script "Samuel Bell Strasburg 1844." The date and town of origin incised on this whippet are significant, indicating that the figure was made during Samuel Bell's first full year at his newly-established pottery in Strasburg, Virginia (Comstock, p. 205). Nearly all other known Samuel Bell whippets bear an earlier date, and usually the inscription "Winchester," indicating they were made at the shop of Bell's father, Peter Bell, in Winchester, VA. This whippet shows that although Samuel had moved away to Strasburg, he was still producing and signing whippets as he had in Winchester. To our knowledge, this is the first Shenandoah Valley of Virginia whippet to cross the auction block in over ten years. Recently discovered in the Winchester, VA area. One of the most important finds in Shenandoah Valley pottery in the past several years. Fully restored muzzle. A few base chips. Wear to white paint on paws. Length 9 3/4".
---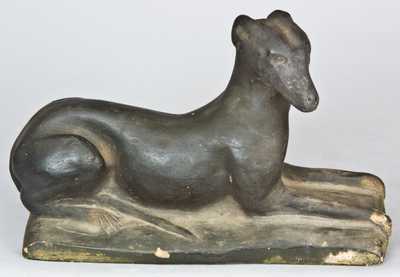 Click image to enlarge.
---