HOW TO BID
Click here for info on all of our various bidding methods.
AUCTION INFO
Next Auctions:
•May 4, 2013. Three-Session Sale: Textiles, The Maryland Sale, Americana
(More Info)
•July 20, 2013. Stoneware & Redware Pottery.
(More Info)
Location: Our historic gallery.

15900 York Rd, Sparks, MD 21152. (Directions.)
NOW ACCEPTING CONSIGNMENTS
Click here for a FREE pre-auction evaluation of your pieces!
Click here for more consignment info.
Southwestern PA Stoneware Wax Sealer w/ the Figure of a Baseball Player
WORLD AUCTION RECORD, WESTERN PA STONEWARE
July 19, 2008 Stoneware Auction
Lot #: 1
||
(Facebook)
||
||
Price Realized: $65,550.00 (Price includes 15% buyer's premium).

AUCTION HIGHLIGHT!
(
Greatest Hits
|
July 19, 2008 Highlights
|
Western PA Stoneware
)
Exceedingly Rare and Important Western PA Stoneware Wax Sealer with Cobalt Decoration of a Baseball Player, Greensboro or New Geneva, PA origin, circa 1875, cylindrical jar with flared base and semi-rounded rim designed to hold a metal canning lid. The front decorated with the detailed, brushed cobalt design of a man's face with baseball cap. Man's face features a curled mustache, prominent chin and jaw, eye with eyelashes, and hair with short sideburn. Baseball cap is depicted in the typical 19th century and early 20th century style with button top, triangular sections separated by stripes or stitching, and a short bill, filled completely with cobalt. Western Pennsylvania stripe decoration frames the man's face above and below. This important work of ceramic folk art is the only example of American stoneware we are aware of depicting a baseball player. It was made approximately fifteen years after baseball became a semi-professional sport in America, during a period when it was being hailed in newspapers as "America's pastime," a slogan that has remained until the present day. The jar may have been made as a response to the rise of the first professional baseball team in nearby Pittsburgh in 1876. Provenance: Recently discovered, having been purchased by an antiques collector approximately forty years ago. Near mint condition with only minor nicks on interior of rim. H 8 1/4".
---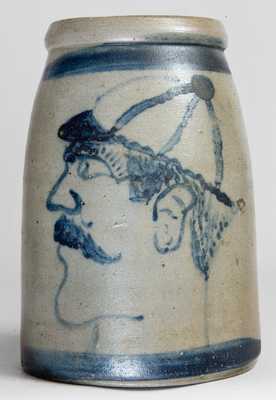 Click image to enlarge.
---