HOW TO BID
Click here for info on all of our various bidding methods.
AUCTION INFO
Next Auctions:
•May 4, 2013. Three-Session Sale: Textiles, The Maryland Sale, Americana
(More Info)
•July 20, 2013. Stoneware & Redware Pottery.
(More Info)
Location: Our historic gallery.

15900 York Rd, Sparks, MD 21152. (Directions.)
NOW ACCEPTING CONSIGNMENTS
Click here for a FREE pre-auction evaluation of your pieces!
Click here for more consignment info.
I.H. WANDS / OLEAN, NY "Seneca Lake" Fish Crock
May 20, 2006 Stoneware Auction
Lot #: 98
||
(Facebook)
||
||
Price Realized: $31,900.00 (Price includes 10% buyer's premium).

AUCTION HIGHLIGHT!
(
Greatest Hits
|
May 20, 2006 Highlights
|
New England / NY Stoneware
)
Possibly Unique Three-Gallon Stoneware Jar with Elaborate Cobalt Fish Decoration and Inscription "Seneca Lake," Stamped "I.H. WANDS / OLEAN . NY," circa 1850, ovoid jar with wide opening, tooled rim, and applied handles, decorated with a large, brushed cobalt fish underscored by a stylized body of water. Fish depicted with large eye, dotted head, dashed body, and several fins. The words "Seneca Lake" in cobalt script above the fish. Water underneath fish connects by line of cobalt to another brushed cobalt mass, likely another body of water. Side of jar reads "Ont Lake" (referring to Lake Ontario) and "Bluff Point," which are landmarks surrounding Seneca Lake. In essence, the jar forms a sort of cobalt-painted map below and to the left of the fish. Maker's and capacity mark, as well as handle terminals, highlighted in cobalt. Seneca Lake is the second deepest lake in the United States, and a popular fishing landmark, which hosts the National Trout Fish Derby each year. It is even hailed as the trout fishing capital of the world. We believe, therefore, that the fish on this jar is meant to represent a trout. An exceedingly rare and cleverly-decorated example of American stoneware. A statement piece. Curving crack from rim on front. Small chips to one handle. Height 11 3/4".
---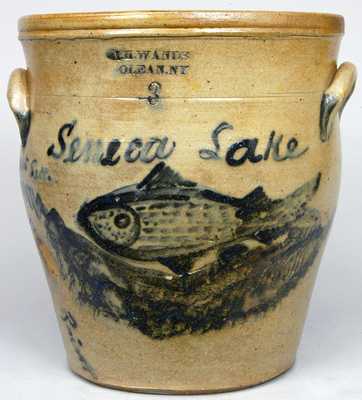 Click image to enlarge.
---