HOW TO BID
Click here for info on all of our various bidding methods.
AUCTION INFO
Next Auctions:
•May 4, 2013. Three-Session Sale: Textiles, The Maryland Sale, Americana
(More Info)
•July 20, 2013. Stoneware & Redware Pottery.
(More Info)
Location: Our historic gallery.

15900 York Rd, Sparks, MD 21152. (Directions.)
NOW ACCEPTING CONSIGNMENTS
Click here for a FREE pre-auction evaluation of your pieces!
Click here for more consignment info.
Shenandoah Valley Redware Lamb Group, attributed to Solomon Bell
November 05, 2005 Stoneware Auction
Lot #: 4
||
(Facebook)
||
||
Price Realized: $11,550.00 (Price includes 10% buyer's premium).

AUCTION HIGHLIGHT!
(
Nov. 5, 2005 Highlights
|
Shenandoah Pottery
|
Redware
)
Very Rare Molded Redware Lamb and Ewe Group, attributed to Solomon Bell, Winchester or Strasburg, VA, circa 1840-1880, unglazed figure of a ewe and lamb with raised, dotted coats reclining on a base. Incised detail to ewe and lamb"s hooves and ewe"s face. Hollowed underside. Interestingly, on a section of the back of the ewe"s head where the raised wool design was lost after removal from the mold, a small circle design was impressed into the clay. This example may have been painted at some time, as there are some light traces of white paint. Repaired ears on ewe. Base chips. A few manufacturing lines on base, which do not go through to interior. Length 8".
---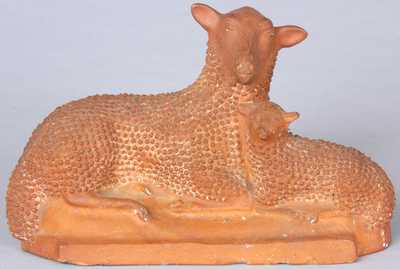 Click image to enlarge.
---