HOW TO BID
Click here for info on all of our various bidding methods.
AUCTION INFO
Next Auctions:
•May 4, 2013. Three-Session Sale: Textiles, The Maryland Sale, Americana
(More Info)
•July 20, 2013. Stoneware & Redware Pottery.
(More Info)
Location: Our historic gallery.

15900 York Rd, Sparks, MD 21152. (Directions.)
NOW ACCEPTING CONSIGNMENTS
Click here for a FREE pre-auction evaluation of your pieces!
Click here for more consignment info.
MOORE & COLVIN (Portage County, OH) Stoneware Water Cooler w/ Incised Eagle
November 01, 2008 Stoneware Auction
Lot #: 8
||
(Facebook)
||
||
Price Realized: $4,945.00 (Price includes 15% buyer's premium).

AUCTION HIGHLIGHT!
(
Nov. 1, 2008 Highlights
|
Ohio & Midwest
|
Incised Stoneware
)
Very Rare Six-Gallon Stoneware Water Cooler with Incised Eagle Decoration, Stamped "MOORE & COLVIN, Ohio origin, circa 1850, ovoid jug-form cooler with open strap handles and squared bung hole, decorated with an incised and cobalt-highlighted federal eagle with spread wings, holding olive branches and arrows in its talons. This design is underscored by a stylized cobalt foliate design. Additional cobalt highlights to bung hole, maker's and capacity marks, and handle terminals. Words are incised at left and right of eagle, but are very difficult to read because they were incised before the vessel was coated in heavy slip. However, after evaluating them carefully we are fairly confident that they read "Seymour" and "Colvin," referring to potter Seymour Colvin, the oldest member of the Colvin family of potters active in Ohio in the second half of the nineteenth century. Seymour, his two brothers, Almer and Byron, and various descendants produced stoneware primarily in northeastern Ohio, but are also known to have worked in West Virginia and Nebraska. In the 1850 U.S. Census, Seymour Colvin is shown working as a potter in Suffield, Portage County, Ohio, while his brothers had yet to take up the potting trade. The mark "MOORE & COLVIN" almost certainly refers to a partnership between Seymour Colvin and another party; interestingly, a family of Moores is shown living very near Seymour Colvin in the 1850 census, though none is listed as a potter or merchant. Highly desirable form and decoration. Near mint condition with a 2 3/4" vertical hairline at base, continuing approximately 2" onto underside. H 17 1/2".
---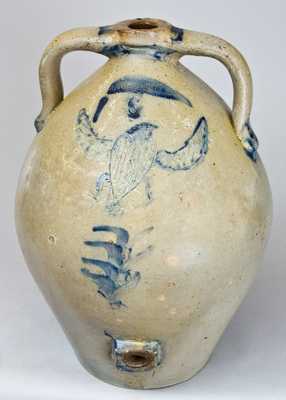 Click image to enlarge.
---