HOW TO BID
Click here for info on all of our various bidding methods.
AUCTION INFO
Next Auctions:
•May 4, 2013. Three-Session Sale: Textiles, The Maryland Sale, Americana
(More Info)
•July 20, 2013. Stoneware & Redware Pottery.
(More Info)
Location: Our historic gallery.

15900 York Rd, Sparks, MD 21152. (Directions.)
NOW ACCEPTING CONSIGNMENTS
Click here for a FREE pre-auction evaluation of your pieces!
Click here for more consignment info.
MARY A BENNER / BALTIMORE, MD / A. PARR MAKER 1880 Stoneware Pitcher
November 01, 2008 Stoneware Auction
Lot #: 267
||
(Facebook)
||
||
Price Realized: $5,635.00 (Price includes 15% buyer's premium).

AUCTION HIGHLIGHT!
(
Nov. 1, 2008 Highlights
|
Baltimore Stoneware
)
Important Cobalt-Decorated Stoneware Pitcher, Impressed "MARY A BENNER / BALTIMORE, MD / A. PARR MAKER 1880," Waverly, Baltimore City, MD origin, small-sized stoneware pitcher with vase-like form, pronounced foot, and flaring rim, decorated with a two-stemmed clover plant design surrounding the extremely rare presentation inscription "MARY A BENNER / BALTIMORE, MD / A. PARR MAKER 1880." The "A. PARR" referred to in this inscription is Augustus Parr, a Baltimore-trained potter who was raised by well-known potter, David Parr, Jr., who worked in both Baltimore and Richmond, VA. Augustus Parr was operator of a stoneware manufactory in the Waverly area of Baltimore City when this pitcher was made. No other signed examples of Augustus Parr's work are known to us. One of the finest examples of Baltimore stoneware to be sold in recent years. Recently discovered in Michigan. Excellent condition with a small rim chip with a 1 5/8" hairline extending along top of rim. Three short lines, measuring 5/8", 1/2", and 1/2", extend down from this line. H 7 1/2".
---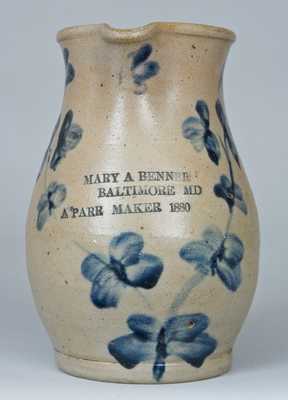 Click image to enlarge.
---