HOW TO BID
Click here for info on all of our various bidding methods.
AUCTION INFO
Next Auctions:
•May 4, 2013. Three-Session Sale: Textiles, The Maryland Sale, Americana
(More Info)
•July 20, 2013. Stoneware & Redware Pottery.
(More Info)
Location: Our historic gallery.

15900 York Rd, Sparks, MD 21152. (Directions.)
NOW ACCEPTING CONSIGNMENTS
Click here for a FREE pre-auction evaluation of your pieces!
Click here for more consignment info.
Little Brown Jug / By / Anna Pottery / 1885 Snake Jug
November 01, 2008 Stoneware Auction
Lot #: 1
||
(Facebook)
||
||
Price Realized: $21,275.00 (Price includes 15% buyer's premium).

AUCTION HIGHLIGHT!
(
Nov. 1, 2008 Highlights
|
Anna Pottery
)
Exceptional Stoneware Snake Jug, Incised "Little Brown Jug / By / Anna Pottery / 1885," Wallace and Cornwall Kirkpatrick, Anna, Ill, highly ovoid jug with tooled spout, highly unusual scalloped foot, and hand-modeled applied snake handle. Snake is formed and styled with great attention to detail, applied in a defensive pose, with thick, puffed-up body coiled around the jug's spout, heavily incised with scales. Its wide, flattened head, characteristic of venomous snake species, is incised with large eyes, nostrils, and mouth, along with the very rare inscription "Pizen," a colloquial for "poison." (Regardless of the Kirkpatricks' true stance on the dangers of alcohol consumption, this jug makes a clear allusion to the issue with its snake-form handle and inscription on the creature's head.) Surface covered in an Albany slip glaze. Likely one of the finest "Little Brown Jug" 's produced by the Kirkpatricks of Anna, Illinois. Mint condition. H 5 3/8".
---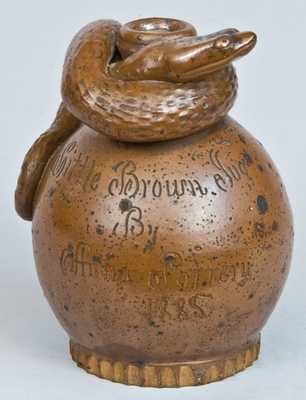 Click image to enlarge.
---