HOW TO BID
Click here for info on all of our various bidding methods.
AUCTION INFO
Next Auctions:
•May 4, 2013. Three-Session Sale: Textiles, The Maryland Sale, Americana
(More Info)
•July 20, 2013. Stoneware & Redware Pottery.
(More Info)
Location: Our historic gallery.

15900 York Rd, Sparks, MD 21152. (Directions.)
NOW ACCEPTING CONSIGNMENTS
Click here for a FREE pre-auction evaluation of your pieces!
Click here for more consignment info.
Stoneware Jar w/ Folk Art Owl Decoration, possibly Kentucky
July 19, 2008 Stoneware Auction
Lot #: 16
||
(Facebook)
||
||
Price Realized: $4,312.50 (Price includes 15% buyer's premium).

AUCTION HIGHLIGHT!
(
July 19, 2008 Highlights
|
Southern Pottery
|
Ohio & Midwest
)
Outstanding One-Gallon Stoneware Jar with Slip-Trailed Folk Art Owl Decoration, Midwestern or Southcentral U.S. origin, possibly Kentucky, circa 1850, straight-sided jar with tooled shoulder, semi-rounded rim, and distinctive one-gallon capacity mark, decorated with a slip-trailed cobalt design of an owl perched in a tree. Owl depicted with large circular eyes, rounded ears above, and human nose and mouth, surrounded by numerous hair-like strokes. The anthropomorphic depiction of the bird's face may be a reference to the long-held belief that owls are a symbol of wisdom. Perhaps the decorator was depicting someone he or she was familiar with. Interestingly, a few other rare examples of stoneware with owl decorations also represent the bird with a humanoid face. The color of the clay is consistent with stoneware made west of Pennsylvania and Virginia. An excellent example of folk art decoration. Provenance: Recently discovered at a small Kentucky auction. A 1" rim chip on reverse. 5" thin crack from rim on reverse. H 10 1/4".
---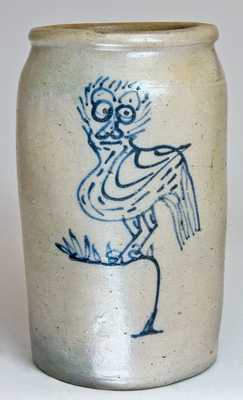 Click image to enlarge.
---