Anna Pottery Pig Bottle, Dated 1890
Albany Slip Glazed Stoneware Pig Bottle, Dated 1890, Wallace and Cornwall Kirkpatrick, Anna, Illinois, molded pig bottle with hole at rear and incised hooves and facial details, incised on one side with the inscription "St. Louis the future Great / Latest Rail Road and River Guide. / 1890." Remainder of pig incised with a map of the following landmarks: Miss River, Rod Island, Dunleth, C & A, Chester, O & M, Gd Tower, Bellville, Springfld, Pinkville, Purcy, Ava, Murphys, alto, Anna, Dongola, Junction, Jonesboro, M & O, Cairo, Mound City, Tunnel Hill, Carbondale, Duquoin, Tamaroa, Centralia, Odin, alma, Kinmudy, Champgn, KKKee, Pullman, Chicago the Corn City, C.V. & C., Vincennes, Metropolis, Ohio River, Louisville, and Cincinnati. Spout chips. Length 7".
---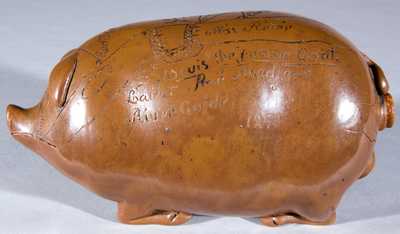 Click images to enlarge.
---
Bidding is now closed.
(Our
next auction
takes place March 2019.)
---