HOW TO BID
Click here for info on all of our various bidding methods.
AUCTION INFO
Next Auctions:
•May 4, 2013. Three-Session Sale: Textiles, The Maryland Sale, Americana
(More Info)
•July 20, 2013. Stoneware & Redware Pottery.
(More Info)
Location: Our historic gallery.

15900 York Rd, Sparks, MD 21152. (Directions.)
NOW ACCEPTING CONSIGNMENTS
Click here for a FREE pre-auction evaluation of your pieces!
Click here for more consignment info.
Anna Pottery (Kirkpatrick Bros.) "Shoo Fly" Jug
WORLD AUCTION RECORD, ANNA POTTERY SHOO FLY JUG
May 19, 2007 Stoneware Auction
Lot #: 154
||
(Facebook)
||
||
Price Realized: $21,850.00 (Price includes 15% buyer's premium).

AUCTION HIGHLIGHT!
(
May 19, 2007 Highlights
|
Anna Pottery
)
Rare Albany Slip Glazed Stoneware Shoo Fly Jug, Wallace and Cornwall Kirkpatrick, Anna, IL, circa 1885, flattened, flask-shaped form, with applied clay figure of a black woman in a dress hanging from the neck of the bottle. Incised detail to woman, including anatomically correct underside. An applied fly is positioned between the woman"s hands and the incised inscription "shoo fly" is written across the front of the jug. Near mint condition with one tiny spout nick. H 5 7/8".
---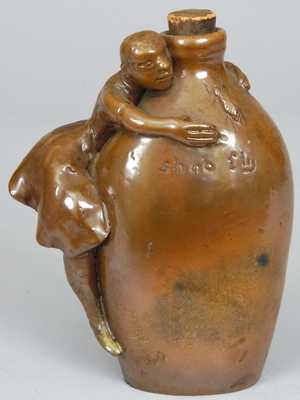 Click image to enlarge.
---