HOW TO BID
Click here for info on all of our various bidding methods.
AUCTION INFO
Next Auctions:
•May 4, 2013. Three-Session Sale: Textiles, The Maryland Sale, Americana
(More Info)
•July 20, 2013. Stoneware & Redware Pottery.
(More Info)
Location: Our historic gallery.

15900 York Rd, Sparks, MD 21152. (Directions.)
NOW ACCEPTING CONSIGNMENTS
Click here for a FREE pre-auction evaluation of your pieces!
Click here for more consignment info.
Miniature Western PA Stoneware Jar
November 04, 2006 Stoneware Auction
Lot #: 265
||
(Facebook)
||
||
Price Realized: $4,950.00 (Price includes 10% buyer's premium).

AUCTION HIGHLIGHT!
(
Nov. 4, 2006 Highlights
|
Western PA Stoneware
)
Rare Miniature Western PA Stoneware Jar with Cobalt Decoration, Greensboro or New Geneva origin, circa 1875, finely-thrown, straight-sided jar with rounded rim and tooled shoulder, decorated with four stylized cobalt flower heads and straight and wavy horizontal stripes. The jar"s form is clearly modeled after one and two gallon size pieces produced in Western PA, yet measures only 3 1/8" tall. Possibly a salesman"s sample or child"s toy. Mint condition. H 3 1/8".
---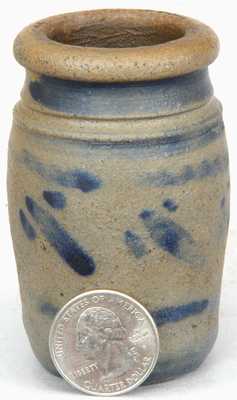 Click image to enlarge.
---