HOW TO BID
Click here for info on all of our various bidding methods.
AUCTION INFO
Next Auctions:
•May 4, 2013. Three-Session Sale: Textiles, The Maryland Sale, Americana
(More Info)
•July 20, 2013. Stoneware & Redware Pottery.
(More Info)
Location: Our historic gallery.

15900 York Rd, Sparks, MD 21152. (Directions.)
NOW ACCEPTING CONSIGNMENTS
Click here for a FREE pre-auction evaluation of your pieces!
Click here for more consignment info.
Morgantown, WV or Southwestern PA Stoneware Jar w/ Woman Firing Gun
November 04, 2006 Stoneware Auction
Lot #: 264
||
(Facebook)
||
||
Price Realized: $13,475.00 (Price includes 10% buyer's premium).

AUCTION HIGHLIGHT!
(
Nov. 4, 2006 Highlights
|
West Virginia Stoneware
)
Very Rare Stoneware Canning Jar with Decoration of a Person, West Virginia or Western Pennsylvania Origin, circa 1870, cylindrical jar decorated with a brushed cobalt design of a woman wearing a hat and firing a shotgun at a small bird perched in a tree. Design painted in a naive manner, with tree depicted almost as a large flowering plant with several short branches and two large flowers. Bird is visible perched in the crook of the tree and several pieces of shot can be seen projecting from the barrel of the gun towards the bird. A rare small-sized piece for people stoneware. Unusual subject matter as well, with the incorporation of a firing gun into the scene. Designs of this style are typically attributed to David Greenland Thompson of Morgantown, WV, John Greenland of Connellsville, PA, or his brother, Norval Greenland, of Uniontown, PA. Rim chips. Some fry to cobalt. H 8 3/4".
---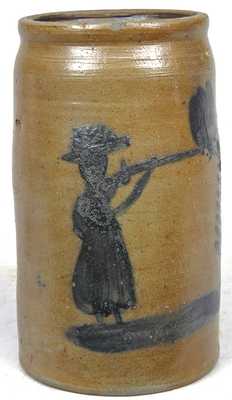 Click image to enlarge.
---