HOW TO BID
Click here for info on all of our various bidding methods.
AUCTION INFO
Next Auctions:
•May 4, 2013. Three-Session Sale: Textiles, The Maryland Sale, Americana
(More Info)
•July 20, 2013. Stoneware & Redware Pottery.
(More Info)
Location: Our historic gallery.

15900 York Rd, Sparks, MD 21152. (Directions.)
NOW ACCEPTING CONSIGNMENTS
Click here for a FREE pre-auction evaluation of your pieces!
Click here for more consignment info.
M + T MiLLER / NEW PORT / PERRY Co / PENN Stoneware Birdhouse
WORLD AUCTION RECORD, CENTRAL PA STONEWARE
November 04, 2006 Stoneware Auction
Lot #: 24
||
(Facebook)
||
||
Price Realized: $71,500.00 (Price includes 10% buyer's premium).

AUCTION HIGHLIGHT!
(
Greatest Hits
|
Nov. 4, 2006 Highlights
|
Central PA Stoneware
|
Incised Stoneware
)
Important and Possibly Unique Stoneware Birdhouse with Incised Decoration, Signed "M + T MiLLER / NEW PORT / PERRY Co / PENN," attributed to Michael and Theophilus Miller, Jr., circa 1870, dome-shaped birdhouse with large pointed finial, arch-shaped opening with small ledge for birds to land on, and a hole below opening to hold a twig. Birdhouse is decorated on the front with a detailed incised design of a man"s bust within a wreath, highlighted in cobalt. To the left and right are incised decorations of a bird perched on a flowering branch, also highlighted in cobalt. (These incised designs are modeled after known brushed cobalt motifs found on Miller products. See Lasansky"s Made of Mud p. 39 for a brushed rendering of the same mustached male bust.) Reverse with the incised and cobalt-highlighted inscription "M + T MiLLER / NEW PORT / PERRY Co / PENN". Includes a removeable wood and metal make-do designed to accommodate smaller birds. A bird"s nest can still be found inside. The birdhouse is an extremely rare form in American stoneware. This is the only birdhouse of this quality that we are aware of. The exuberant incised decorations and signature of the famed Miller pottery make this a truly exceptional example of American stoneware. Easily one of the finest examples of Central Pennsylvania stoneware known. Lines in surface from use or possibly in the making. Small chip on finial. Height 9".
---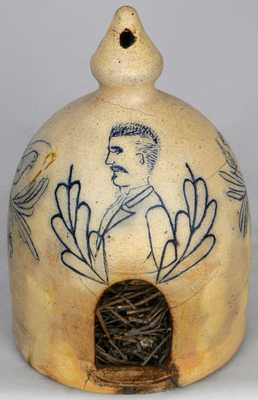 Click image to enlarge.
---