HOW TO BID
Click here for info on all of our various bidding methods.
AUCTION INFO
Next Auctions:
•May 4, 2013. Three-Session Sale: Textiles, The Maryland Sale, Americana
(More Info)
•July 20, 2013. Stoneware & Redware Pottery.
(More Info)
Location: Our historic gallery.

15900 York Rd, Sparks, MD 21152. (Directions.)
NOW ACCEPTING CONSIGNMENTS
Click here for a FREE pre-auction evaluation of your pieces!
Click here for more consignment info.
10-Gallon Ohio Stoneware Water Cooler
November 04, 2006 Stoneware Auction
Lot #: 20
||
(Facebook)
||
||
Price Realized: $3,850.00 (Price includes 10% buyer's premium).

AUCTION HIGHLIGHT!
(
Nov. 4, 2006 Highlights
|
Ohio & Midwest
)
Monumental Ten-Gallon Stoneware Water Cooler with Cobalt Floral Decoration and Braided "Rope" Handles, Ohio origin, circa 1850, ovoid cooler decorated with a large brushed cobalt flowering plant bearing four blossoms. Flower heads accented with cobalt spots and dashed strokes. Area below rim decorated with vertical cobalt dashes and the number "10" in cobalt. Oversized handles each composed of three rope-like pieces of clay braided together and decorated with cobalt spots. Seven-sided bung hole at base decorated with cobalt dashes. An oustanding example of Ohio stoneware with a scarce, large size and ornately-fashioned handles. Rim chips. 4 1/2" crack from rim on reverse. H 19 1/2".
---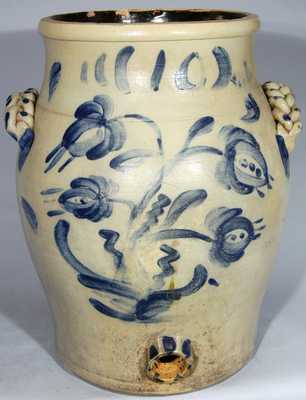 Click image to enlarge.
---