HOW TO BID
Click here for info on all of our various bidding methods.
AUCTION INFO
Next Auctions:
•May 4, 2013. Three-Session Sale: Textiles, The Maryland Sale, Americana
(More Info)
•July 20, 2013. Stoneware & Redware Pottery.
(More Info)
Location: Our historic gallery.

15900 York Rd, Sparks, MD 21152. (Directions.)
NOW ACCEPTING CONSIGNMENTS
Click here for a FREE pre-auction evaluation of your pieces!
Click here for more consignment info.
FENTON & HANCOCK / ST. JOHNSBURY, VT. Stoneware Water Cooler Depicting a Soldier & His Wife
November 04, 2006 Stoneware Auction
Lot #: 1
||
(Facebook)
||
||
Price Realized: $88,000.00 (Price includes 10% buyer's premium).

AUCTION HIGHLIGHT!
(
Greatest Hits
|
Nov. 4, 2006 Highlights
|
New England / NY Stoneware
)
Important and Possibly Unique Four-Gallon Stoneware Water Cooler with Cobalt Soldier and Wife Decoration, Stamped "FENTON & HANCOCK / ST. JOHNSBURY, VT.," circa 1865, straight-sided cooler with tooled shoulder, circular bung hole, and stoneware ring handles attached with faux brackets and screws. Front decorated with an elaborate and highly-detailed slip-trailed design of a bearded man in military dress, with sword hanging at his side, and buttoned coat adorned with epaulettes. The soldier stands arm in arm with a formally-dressed woman with long hair, lacy dress, and necklace. A slip-trailed cobalt vine design extends from the top of the bung hole to the left and right below these figures. Ornamental ring handles and bung hole painted completely with cobalt blue. Maker"s mark and capacity mark highlighted in cobalt. Research suggests that the design on this cooler may represent two St. Johnsbury, VT, residents, a Civil War general named Asa Peabody Blunt and his wife, Mary. Blunt and his wife had moved from New York to St. Johnsbury in 1860. In 1862, Blunt served as lieutenant colonel of the 6th Vermont Infantry and Colonel of the 12th Vermont Infantry. In March of 1863, Blunt served as Brigadier General of the 2nd Vermont Brigade when commanding officer Edwin H. Stoughton was captured by Confederates. In 1864, Blunt was appointed Captain and Assistant Quartermaster, Volunteers, and served as the Depot Quartermaster for the Army of the James on May 4th of that year. He held this position until late 1865. From 1877 to 1888, Blunt was commandant of the United States Disciplinary Barracks in Fort Leavenworth, KS. He died in 1889 at nearly seventy-three years of age. Excellent color on this example with a truly exceptional human decoration. Slip-trailed designs of this artistic quality are extremely rare and few human likenesses have been captured with such detail in American stoneware. Rim chips. H 14 1/4".
---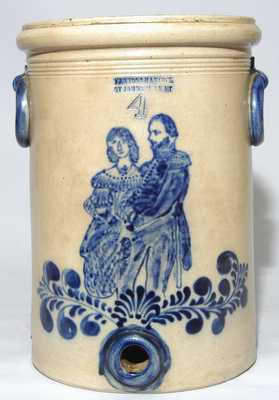 Click image to enlarge.
---