HOW TO BID
Click here for info on all of our various bidding methods.
AUCTION INFO
Next Auctions:
•May 4, 2013. Three-Session Sale: Textiles, The Maryland Sale, Americana
(More Info)
•July 20, 2013. Stoneware & Redware Pottery.
(More Info)
Location: Our historic gallery.

15900 York Rd, Sparks, MD 21152. (Directions.)
NOW ACCEPTING CONSIGNMENTS
Click here for a FREE pre-auction evaluation of your pieces!
Click here for more consignment info.
Twelve-Gallon Southwestern Pennsylvania Stoneware Presentation Crock
May 20, 2006 Stoneware Auction
Lot #: 240
||
(Facebook)
||
||
Price Realized: $9,900.00 (Price includes 10% buyer's premium).

AUCTION HIGHLIGHT!
(
May 20, 2006 Highlights
|
Western PA Stoneware
)
Very Rare and Important Twelve-Gallon Stoneware Presentation Jar with Cobalt Floral and Heart Decorations, Incised "Elizabeth Degood," attributed to George Debolt, New Geneva or Fredericktown, PA, circa 1850, large, semi-ovoid jar with incised bands at midsection and ribbed lug handles, decorated with a large sweeping floral decoration covering much of the jar's front. Cobalt swag decoration below the rim and cobalt circles around handle terminals. The name "Elizabeth Degood" incised on the jar's front, highlighted in cobalt, and surrounded by a brushed cloud-like border. A vertical flower brushed to the left and right of the name, and the number "12" within a heart brushed below. This jar was likely made as a presentation piece for one Elizabeth Degood. The very rare usage of a heart in the design suggests the jar may have been made as a wedding gift, or perhaps by a potter who was fond of the lady. A smaller jar of similar form and decoration, with the name "George Debolt" incised within the same style, looping border, is attributed to potter, George Debolt. Debolt who was the earliest active in New Geneva, PA. A very rare jar in terms of Height 21".
---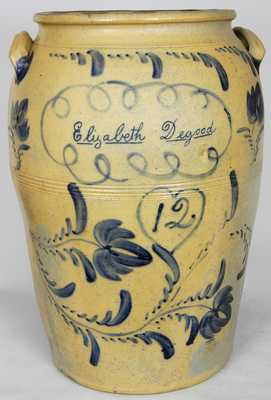 Click image to enlarge.
---